Uncanny Valley is a survival horror throwback to the 8-bit era of video games. Cowardly Creations has created a 2D, story-driven narrative about a security guard named Tom. This normally quiet facility is full of mysteries but Tom is about to stumble across someone or something evil.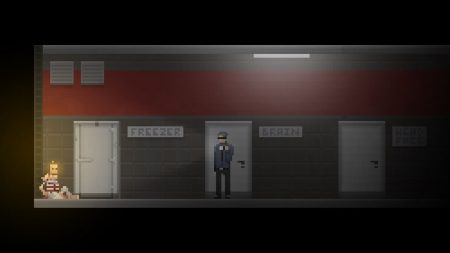 Meet Tom, He Works The Night Shift
In Uncanny Valley, players will have to get Tom through a series of scary events at his work. Tom works the night shift at an abandoned facility. Late one night, Tom finds some pretty grotesque stuff and now some creatures are after him. Players will have to work at staying alive all the while the unraveling mysteries of this facility.
Prepare For Some 8-bit Scare
It may be hard to scare people with pixelated monsters, so Uncanny Valley contains a rich and engaging story. Leading up to these events, Tom, was having nightmares. Now it appears his nightmares maybe becoming real. Players will be making decisions that will have consequences throughout the game. Players may not always find death is the result of making a bad decision.
Cowardly Creation created a system where Tom may suffer an injury after making a bad decision instead of dying. For example, Tom may break his arm during the course of the story and now players will have a harder time using weapons. These injuries will create a changing dynamic through the rest of the story. This looks like it will be an interesting game so make sure to keep an eye out. Uncanny Valley will be available on Playstation 4 and Playstation Vita on February 7th and on Xbox One on February 10 for $12.99.