This one's super limited in run, but if you're a big Star Trek fan, then you'll want to try to grab a set of Icon Heroes latest paperweights.
Two to beam up Mr. Scott
Classic Star Trek is the theme for collectible-maker Icon Heroes' newest offering. And unlike their other stuff, this one's going to be tough to get. That's because Captain Kirk and first officer Spock here will have a run of only 150 pieces. Yes, that's a super low number, and it's global by the way, not just for the US.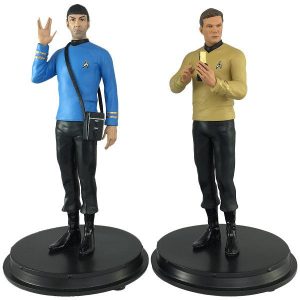 You may not be able to get away from your work desk long enough to explore new worlds and civilizations … but now you can look like you do, with these exclusive Star Trek Captain Kirk and Mr. Spock Statue Paperweights! Each paperweight stands approximately 7.5 inches tall, is cast in high-quality resin, individually numbered, and expertly painted.  A Certificate of Authenticity is included in each box.
Both 'paperweights' are crafted from polystone, which is typical for IH's releases. Kirk will stand in at 7.3 inches, while Spock will be just a tad taller, and stand at 7.5″. Both will weigh about the same though, at 1.5 pounds. The pair will cost you $109.99 and -again- be limited to 150 units. So, you know, if you want one, you might want to pre-order.
Oh, and that's something that you can do by clicking here.