Our heroes are deep in the jungle, a narrow escape slowing the team from stopping a cult's human sacrifice, but things are still urgent and mysterious in Rise Of The Black Flame #4.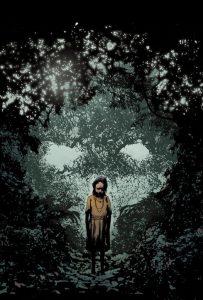 Start with #1: here
Catch up on #2: here
Catch up on #3: here
Continuing Deeper
The team of Ms. Jewell and Ms. LaFleur's have escaped the hooded attackers in the strange temple. However they are not without their wounds. McAllister did not escape the attack. The visions that Farang has been seeing continue to be cryptic. Nine years of random visions. Surely there must be a point to all of these?
Sarah needs tending to, and we learn a bit more of where she's been. Farang swapped his machete for one of the hooded assailant's swords during the attack. This begins his backstory, a hint of how such a mysterious German found himself in Jewell and LaFleur's employ. The team regroups, when they find a woman hiding in the jungle. She's escaped, and now she's incredibly terrified.
The strange woman is able to detail some of what happened to her during the kidnapping. She was nabbed in a bazaar, and proceeds to detail being drugged and more. The team is able to piece together a little bit of what these girls are being put through. The frightening thing is that the hooded men are looking for someone, though they do not yet know who that someone is.
Darkness Approaches
We've followed this team as they assemble, and as they follow the bread crumbs across the world. Hailing from all corners of the world, and now find themselves in a remote jungle, where dangerous things lurk around every corner. Farang continues to have his dreams, for whatever will come of them. We have had glimpses of the cult they are tracking. Glimpses of the power behind them, that mysterious 'indwelling flame'. An incredible presence, but what does this mean? What does Farang have to do with her?
Maybe it's just me, but having these visions, I think that Farang ends up turning against his team. The feeling that these visions give me, just give me that notion. What will come of the kidnapped girls, i do not have high hopes for. They may be able to save one or two, but we are given the impression that there may be close to a dozen missing girls.
Will Farang become the Black Flame entity? Perhaps a guardian to the incarnate avatar as they work their way to power, as they supposedly were once before in history. One thing is for sure: the story has built up to what has to be an amazing finale. Rise of the Black Flame #5 should be an incredible issue. I hope I'm not getting my hopes up too far.
But what does that mean for Jewell and LeFleur? These ladies have battled more than their fair-share of evil entities. Will they escape the cult of the Black Flame? Will they be sacrificed? We will have to wait until January to see how this particular legend wraps up. In the mean time, Rise Of The Black Flame #4 hits the shelves December 7, 2016. Check it out.
Rise Of The Black Flame #4
Writer: Mike Mignola, Chris Roberson
Artist: Christopher Mitten
Colorist: Dave Stewart
Cover Artist: Laurence Campbell
Darker Days
Plot - 91%
Writing - 85%
Art - 86%
The team's numbers are dwindling as they venture deeper into the jungle. Things may not end well for them. We will have to wait until Rise of the Black Flame #5 to see how everything plays out.