Agents Xiang and Hellboy are on the case of investigating a domestic haunting in Baltimore in HellBoy 1954 – The Unreasoning Beast.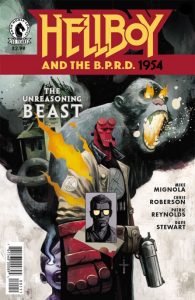 Domestic Disturbance
Sometimes the Bureau of Paranormal Research and Defense get called on seemingly ordinary investigations. Though they are rarely ordinary if the BPRD are called in.
The agents enter the home of Thomas, Margaret and Victor Koestler. Thomas, the father believes that the spirit of his recently deceased brother's pet monkey is out to harm him. Well, that throws ordinary right out the window.
Thomas' brother Robert (and his pet monkey) were killed in a domestic fire about a month prior. Robert's monkey never liked Thomas, and apparently still doesn't. Shortly after the fire, weird noises, doors opening, the usual haunting behaviors began. Then the monkey would be sighted on the roof, watching.
The agents determine that they will spend the night with the Koestlers, to see if they can experience what Thomas is. Victor gets up in the middle of the night, and tells Hellboy about how he misses the monkey more than his uncle Robert.
Paranormal Protection
Agent Xiang goes out to the garage where one of the monkey sightings occurred. We learn that Robert was seeing Margaret while Thomas was away. Just as she is filling her partner in on the details, the monkey attacks Thomas in bed. This time Hellboy is there to fight back.
Hellboy scares away the monkey, and learns just enough to move onto his next idea. Hellboy runs to Victor, while Xiang stays with the parents. Neither agent can believe their eyes.
Well, sometimes you just cannot kill the thing that is troubling you. Maybe it is a part of you that you need to learn how to control. Either way, once in a while you have to work to find a livable solution. This is exactly the type of solution that Xiang and Hellboy present to the Koestlers. Getting help for such a condition is paramount.
Horrific Hauntings
Plot - 76%
Writing - 85%
Art - 90%
Agents Xiang and Hellboy get sent on a rather odd case: a domestic haunting. Luckily the agents knew how to address the situation in the end. Paranormal trouble can surface anywhere.