Sometimes you just have to swing for the extras. See what goodies come in the latest, an possibly largest, the Dishonored 2 Premium Edition.
Dishonored 2 Premium Edition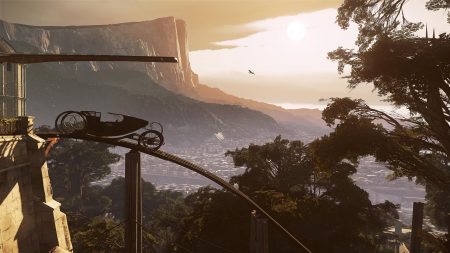 Everyone, at one point or another, has wanted to drop the extra cash for the premium edition of a new release. Maybe it comes with a beefed-up version of the in-game gun. Sometimes you get an extra mission or two. What if I told you, that when I went to pick up my copy of the Dishonored 2 Premium Edition, the sales associate's eyes lit up. The guy told me he hadn't actually seen any yet that day. He motioned to the manager, who had to get it from the back.
Now not having worked at a retail game store before, I figured this was routine, store the more expensive items in the back. And while that may have been part of the equation, that was not the whole story. This girl spent 10 minutes in the back of the store. My thought was, that it can't be that hard to grab a small box, and be on the way. I had no idea. The manager comes around the corner, both hands full and a big smile on her face.
Premium Goodies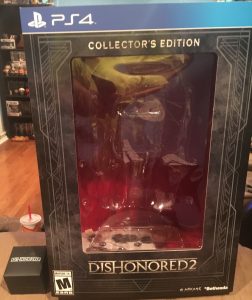 A large container is set before me, and I am on my way. This thing is HUGE. Either side have copies of Duke Luca Abele's Wanted posters for Corvo and Emily.
In addition to a copy of the highly-awaited game, the Dishonored 2 Collector's Edition includes:
Corvo Attano's Mask Replica and Stand.
This recreation of Corvo's in-game mask is just short of life-size. Made of a moderate plastic, this could easily pass as a carryable Corvo mask for cosplayers.
Emily Kaldwin's Ring Replica and Display Box.
An impressively heavy zinc ring, can make anyone feel like they are part of the Kaldwin line.
Full Color Propaganda Poster Print.
An impressive dual-sided propaganda poster, letting you choose your side. Do you favor Empress Jessamine Kaldwin, or the mysterious rulings of Delilah Kaldwin.
Collectible Legacy Metal Case.
The limited-edition metal case is decorated with the portraits of Empress Emily Kaldwin and Royal Protector Corvo Attano – the two faces of your game play.
Digital Imperial Assassin's Pack.
Gain exclusive in-game charms such as Duelist's Luck and Void Favor. Also includes 500 coins to acquire new gear and weapons within Karnaca's illegal black market shops.
Dishonored: Definitive Edition.
A digital copy of Dishonored: Definitive Edition. Remastered for this generation of consoles, the Definitive Edition includes the original critically-acclaimed game in the Dishonored series plus all of its add-on content: Void Walker's Arsenal, Dunwall City Trials, The Knife of Dunwall and The Brigmore Witches.
Limited Edition Dual-sided Wrap.
Will you hide your face like Empress Emily, or cover yourself like the Royal Protector, Corvo?
Impressions
Now, the in game coins are always a welcome treat. The extra charms may or may not be useful, depending on your style of play. Though, you may be in luck, since Dishonored 2 allows you to craft Runes and Bonecharms. The box itself is rather cumbersome, so I may break it down for the WANTED posters. Though the ring and mask will proudly be on display. Any Dishonored fan would enjoy having this in their collection.