This recap comes a few days later as I am trying something new out for this series. The night of and the day after, the internet is flooded with spoiler recaps of the latest "The Walking Dead." Instead of trying to beat the rush, we are going to take a couple days to stew on the newest developments, go briefly over the episode, and discuss where the show might go the next time it airs.
The episode focuses on Negan's (Jeffrey Dean Morgan) visit to Alexandria. Before he arrives, Michonne (Danai Gurira) sneaks out on Rick (Andrew Lincoln) and takes a sniper rifle with her. She is leaving town to practice her aim.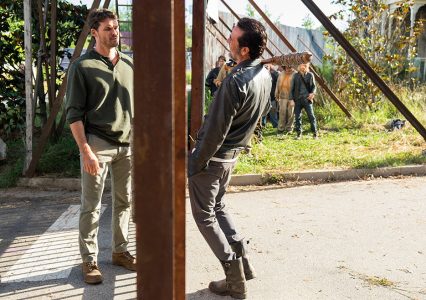 While she is gone, Negan and his crew, including Daryl (Norman Reedus) arrive. They start to make good on their promise to take half of everything. Negan decides that they will also take every single gun the group has after Carl (Chandler Riggs) threatens Negan's men. Walking all over the town, Negan decides that "half" actually means whatever he chooses.
The episode is really about power and is an examination of the broken Rick. We see him crumple and fall in line with Negan, working to find missing guns so that Negan doesn't kill anyone else looking for them.
The 90-minute episode is tense throughout, and really gives viewers a look into how broken Rick is when it comes to Negan.
Now, lets take a look at what all this can mean for the future. Coming to this with a background from the comics, it is safe to say that the overall course we are taking will be similar in basic plot lines. The trailer for the next episode also shows us that the Hilltop and Maggie (Lauren Cohen) will be the center of next week's Walking Dead.
Based on what we have seen so far, I think we will see the beginnings of Maggie taking over the leadership position at the Hilltop. The deal she made last season with the current leader, Gregory (Xander Berkeley), to take out the Saviors obviously backfired. There will now be a power struggle as Gregory demands further action and Maggie explains to the people that there is no action to take unless unity comes.
I believe that at the end of next episode, Jesus (Tom Payne), will mention the Kingdom to Maggie. This is only the first step towards a unification against Negan that will in all likelihood, take awhile to come to fruition.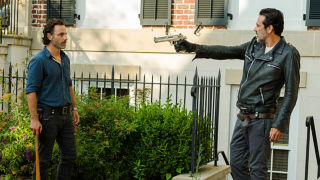 This was a really strong episode, even if things were slowed down. The tension that the show created in moments that would normally be light, such as Negan saying that a certain event "really tickles his balls," is incredible. If the plot can be imagined as a roller coaster, we are on our way back to the top of the ride after the beginning of the season acted as a brutal drop.