Valiant's Roman saga continues in the penultimate issue of Britannia.
Evil infests the edge of the Empire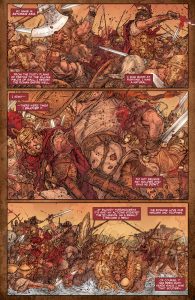 When last we left hero Antonius Axia, he was at the business end of a sword. Wielded by one of the corrupted and crazed Legionaries he found himself in the midst of, the blade is the first thing to drop in issue three of the mini-series.
The third issue begins with that battle, and it's a damn good one. We see not only a little action, but also peer into the mind of Axia, who's experience as a soldier comes into play. He's been out of the service for a few years at the time of this issue, but there are some things that stay with you. And it's that fragment of battles past that we see here. Pretty psychologically in-depth for a comic, no?
It's all part of what makes Britannia a can't miss book. Even here in this issue, which moved a little too fast for my tastes, the series is excellent. And if you can say that despite some quibbles, then you know that writer Peter Milligan is kicking some ass here.
Excellently written and gorgeously illustrated
Milligan has crafted a special kind of narrative. It's one that not only is wholly original, but one that also has effectively opened up the Valiant Comics Universe to a whole new time period. That's no easy task.
Here in issue three we see more of the daily toll that being on the fringes of the Empire can wreak. Not only that though, we get a hefty dose of the fantastical, as the demon that's been tearing at Axia's mind comes stunningly to life.
Adding to that imagery and so much more, is artist Juan José Ryp. I've raved about Ryp's work before, and it's just as impressive here as it's been elsewhere. His characters have incredible expression, the action on display is fluid and exciting, and the 'effects shots' are stunners. Lending a hand to that is the color work of Jordie Bellaire, who adds a ton of 'oomph' to one scene in particular. It's highlighted by a sickly green fog – you'll know it when you see it.
A quickened pace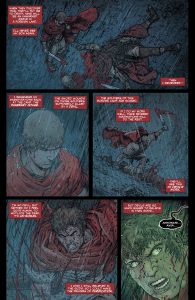 I mentioned that this issue moves fast, and it does. That's both good and bad, as the story is heading into its conclusion. So everything kind of has to get wrapped up by the end of next issue.
The first pair of issues seemed so spot-on perfect though, that the quickening is noticeable here in number three. Does it ruin the book? Gods no. Would a five-issue run have remedied things and given more room for additional fleshing-out of story content? Yep.
I also felt that the insanity that pervaded issue two was more or less gone here. All the themes that make this such a fun read are still present and accounted for, but that Lovecraftian flavor of madness is missing to a large degree. Hopefully, next month's conclusion picks that ball back up and runs with it.
Still though, even with all that Britannia shines. It's a less-than perfect entry, but still tons of fun. There's even an awesome bonus here. At the end of the issue, there's a lengthy exploration of the real Emperor Nero. Oh, and it's written by Dr. Ed Bispham, Tutorial Fellow in Ancient History at Brasenose College. How cool is that?
Britannia #3 (of 4)
Release Date: November 16th, 2016
Publisher: Valiant Comics
Written by: Peter Milligan
Illustrated by: Juan Jose Ryp
Not perfect, but still excellent
Artistic excellence - 90%
A great story that moves a little too fast - 80%
Do you like horror? Mystery? Sword and sorcery tales? Then you need to be reading this book. Issue three of Britannia might not be as sublime as the first two, but it's still damn good and worth your time. I can't wait for the conclusion!