An insanely hard journey awaits anyone crazy enough to attempt to save the day in Maldita Castilla.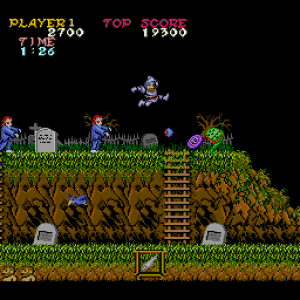 This 8-bit adventure is a 2D platforming murderfest. Go back to the days of the Nintendo, to the grammatically incorrect, Ghost 'n Goblins. This historic 2D platformer followed Sir Arthur as he tries to save Princess Prin Prin. Arthur was protected by his suit of armor, but it did little to protect his frail body. It was a rather difficult game. Fast forward 20-something years and a similar game, Maldita Castilla, drops onto the scene with the 8-bit super difficult, but rewarding, adventure.
This story comes with a side of Spanish flair
In a far-off land, there was once a kingdom, Tolomera, and it was a happy little castle. Until one day the queen, Moura, lost the love of her life. Seizing at the opportunity, demons convinced Moura her tears could be used as a key to another land. She thought she might be able to see her lover again if she agreed to give the demon her tears.
These tears were in fact magical and did open a door. Only it opened a door to a cursed realm full of demons. Now what was once a happy and peaceful castle has turned into a place of horror. It is now the Cursed Castle. It his by his decree of King Alfonso VI of León, that his most trusted knight, Don Ramiro, travel to the castle and break the curse. This standard 2D platformer is full of interesting characters with a touch a Spanish flair. This tale has been created with plenty of Spanish folklore, as its creator is from Spain.
Introducing the creator of the game
This story and game were created by Juan Antonio Becerra, who goes by the pseudonym, "Locomalito." It took Locomalito 10 years to develop Maldita Castilla. From the animation, to the level designs down to the characters, he did it all. He did have help from two important people in the gaming business, Gryzor87 and Marek Barej.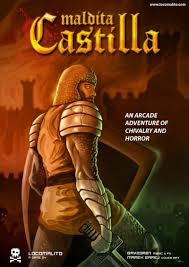 Known for creating jamming gaming soundtracks, Gryzor87 has done an excellent job with Maldita Castilla's soundtrack. Barej provided the game's promo illustrations as he has done for a lot of other developers as well. Locomalito has done a good job of creating a unique experience with a heavily saturated marketplace. Two things stick out that separate this game from similar games. The character designs and the difficulty of the game.
Attention: Boss battle ahead
Aside from Don Ramiro, players will meet a cast of zany characters. The levels all contain your pretty standard set of baddies. Some can fly, some are knights, while others are demons. These are all nice but the real characters are the bosses. The Beheaded Knight is the first boss players will experience. He is rather simple design. As the bosses become more difficult, the also become more complex from a design stand point.  From giant tape worm, Zarrampla, to a boss who is half man, half scorpion, the Manzicore.  Crazy Quixote, a tin-man version of the literary character, can toss daggers and battles axes while he is not chasing windmills. These creative character designs also pull inspiration from other games.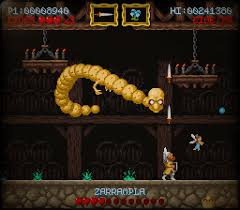 In another battle, boss is the only character illuminated on the screen and the player must dodge it from being hit while in the dark. The boss character's name, Bu, sound familiar?  One of the last final bosses, Luzrarel, looks an awful lot like a vampire boss from a similarly titled castle-themed game. While there is not a lot depth to a 2D platformer, the key to this game's great design lies in the creative and distinct approach to the boss character designs. Do not let the video below fool you, defeating this baddies is a rather difficult task.
There is only one option: HARDCORE
Locomalito created Maltdia Castilla with only one difficulty setting. He doesn't give it a name, but instead describes his reasoning for this choice. Here is an exert from his website. "Difficulty is part of a game's personality, like actors in a movie. There are no difficulty options in my games, just the one I carefully crafted for each level and situation. From a player's perspective, beating my games is just a question of mastering." Let's just say the bar has been set rather high.
You will die. You will die a lot. Did I mention you will die?
This is one of the hardest games I have ever played. I made it maybe a third of the way and used 31 continues. Each player starts off with three lives. Each life has three hearts, so the player can get hit three times before that life is over. Once the three lives have expired, there seems to be unlimited continues. The game will count each continue as a reminder that you could not beat the game in one sitting. I have murdered poor Don Ramiro 93 times and still counting.
There is a speed run option to this game. Players have completed the game in under an hour. I am stuck somewhere in the second part of the game, after several hours and Don Ramiro's lives. For a player such as myself, this game requires a lot of patience and trial and error. When I do complete a part, it is gratifying to say the least. More times than not, I will have spent several tries on a particular part of a game.
This curse is wicked hard
Overall - 75%
We all remember how difficulty of beating the old 1980's arcade and console games. Repetition, quick eye-and-hand coordination and determination were the winning ingredients when it came to beating these old school games. As an aging gamer, this game upsets me because I can start to see how aging is taking its effects upon my eye-and-hand coordination. I am no longer a child in the 1980s, but an adult trying to recapture those glory days. Through all the frustration, there is a fun game with some great character designs and a pretty jamming soundtrack.