Switch from home to on the go play with the Nintendo Switch.
Make the Switch
First, yes the name is kind of dopey, even though it perfectly describes what Nintendo fans can do with the company's new console. I was actually hoping for something more along the lines of the NES/SNES labeling. Kind of a throwback thing, you know?
In any event, what we've got in place of the temporary title of 'NX' is the Nintendo Switch, and it's shockingly cool.
"Nintendo Switch allows gamers the freedom to play however they like," said Reggie Fils-Aime, President and COO, Nintendo of America. "It gives game developers new abilities to bring their creative visions to life by opening up the concept of gaming without boundaries."
And with that, we've got our first actual look at the Switch, and quite a few details as well. The little console looks shockingly close to an alleged prototype that was floating around the web a while back, and is actually pretty neat.
At home sure, but this Switch can move
The handheld component looks to be a nice evolution of the Wii U's gamepad. I know more than a few gamers who were kind of aggravated that that particular controller was tethered to the home unit. Well, that's not an issue anymore.
Basically, the Switch comes with a dock that'll house the console when you're at home and playing on the TV. As you can see in the video, all you need do is attach the Joy-Con's (that's what the controller 'parts' are called) and slide it out to make it portable. That's it, and you're on the go with your Switch. It seems as though it's seamless too, which'd mean that you can just un-dock the Switch without turning it off. Awesome.
I'm a little worried about that nice big, high definition screen though. It's a minor quibble for sure, but it definitely looks as though you're going to want to get a screen protector asap if you intend to take your Switch out with you.
And… is it a touch screen? I'm a little confused since Nintendo hasn't mentioned it at all. Seems like a no-brainer that it would be, but I'm thinking it's not.
As for those controllers
The Joy-Con's are configurable in more than one way. You an slide them onto the base unit for a more traditional handheld gaming experience, but that's just for starters. You can also use them like the Wii's wiimote and chuck, with one in each hand. Though, just to note, it doesn't seem as though there's any motion-control happening here.
As a third option, you can also slide the controllers into an accessory (doesn't seem to be included) called the Joy-Con Grip. This makes them into a much more typical controller… and kind of reminds me of the Dreamcast controller.
Of course, multiple gamers can use Joy-Cons on some Switch as well. Either side can function as a full controller for some games too by the look of it.Snd if none of that appeals to you, you can always pick up a Switch Pro Controller, which looks almost exactly like the Wii Pro Controller.
Games, it's all about the games
We always seem to hear the same mantra from Nintendo. Their consoles are less about raw power, and more about fun games. While that's nice to say, I'm not sure how true it is in practice. Is there a gamer reading this who doesn't like nice graphics? No, I doubt it.
Still though, Nintendo's famed franchises could sell just about any console to the faithful (me included), and I'm sure the Switch will be no different. From the looks of things, The Legend of Zelda: Breath of the Wild will be a launch title, which is a great way to kick things off.
It also seems as though that new 3D Mario game will be there too, as will a new Mario Kart. And was that the revamp of Skyrim that we saw there? Seemed to be. Not shown was the Pokemon game in development, though we know that's coming too.
One thing I did note was what the graphics on all of the above were good, but didn't seem to be current generation quality. Well, at first glance anyway. We didn't see much of anything in detail here, as a deeper look at the games forthcoming is no doubt on the way in the near future. So basically, don't panic yet if you thought the games underwhelmed in the looks department.
As for the companies involved in game development, there are a bunch.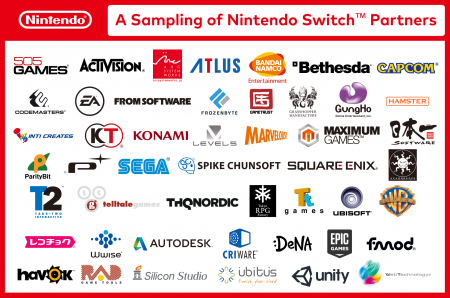 Have to say too, that I like the return of cartridges. Probably just the old school gamer in me, but I'm digging that.
A Switch for Spring
So with all that in mind, we also have a release date for the Nintendo Switch. Sort of. Well, we have a month at any rate. The Switch will be hitting stores come March of 2017, which isn't that far off at all.
Currently there's no one taking pre-orders for the Switch, though GameStop has a signup program for info. If you're dying for news on the release and to know when you can plunk down your reservation, click here and sign up.