It's that time of year again with the latest WWE grappler hits the scene with WWE 2K17.  2K16 was a vast improvement over the highly disappointing 2K15.  So let's see what happens this year as we take a trip to Suplex City.
We got the opportunity to play a normal match and the return of the Backstage Brawl to the series.  The regular match played pretty much the same as last year, complete with the limited number of reversals, slightly irritating submission mini game and the pin circle where you have to hit X at the right time to kick out.  Of course, a WWE game wouldn't be complete without glitches, and there was an odd moment where we tried to grapple our opponent on the outside only for both wrestlers to suddenly flop down on the floor a considerable distance from each other.  Some things never change.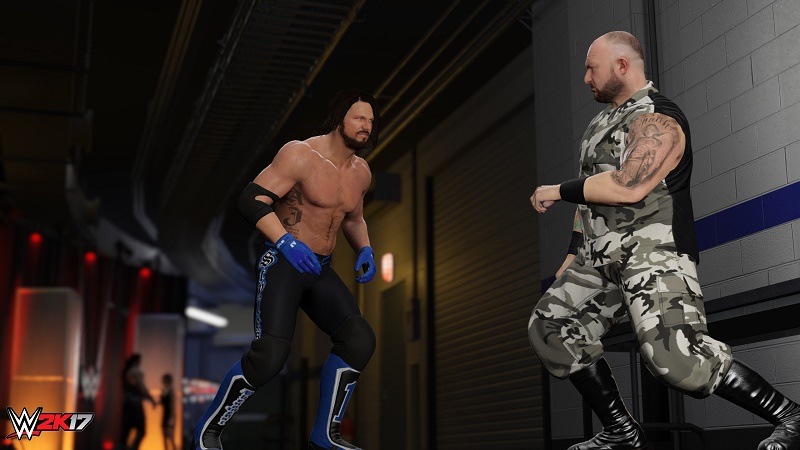 What we were really looking to get our hands on was the returning Backstage Brawl mode.  As with previous versions of this mode, the aim is to knock your opponent out to win the match, using anything and everything you can get your hands on.  There's a good few rooms you can fight in, including the locker room or the office of The Authority.  You can even fight your way towards the interview set, where you'll see Renee Young interviewing somebody, and they will both escape the area when you get near.  It's a nice little touch that adds to the chaos that can often happen on actual WWE programming.
The graphics and general presentation look a little crisper and cleaner than the previous year's offering.  It's nothing revolutionary, but it's noticeable enough.  The commentary, on the other hand, is pretty much about as good as it usually is, which is to say that it's not very good.  Hearing JBL cry out that a finishing move had been hit when it just a regular move that's been hit was very strange.
So overall, nothing much seems to have changed with WWE 2K17 from what we played.  But it's only a small section of what the final game will offer, and if you liked last year's iteration, you'll likely enjoy this one too.
The game is due to be released worldwide on October 11th for PS3, PS4, Xbox 360, Xbox One and PC.  You can find out more at the game's official website.
EDIT: Thanks to a reader, we have pulled the 'PC' tag from the release note at the end of the article. WWE 2k17 will be hitting the personal computer, but there's no date set for launch as of yet.