Valiant Comics has been working on a slate of shared-universe films, that's pretty common knowledge. But they're cooking something else up as well.
Valiant goes live action with Ninjak
So just what this is, is still very much a mystery. What we do know though, is that Valiant is prepping a live action series starring Ninjak.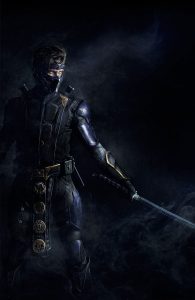 Michael Rowe is set to star in a new Ninjak series. And this should be a ripper, since it's from the folks who brought you Super Powered Beat Down. Directed by Bat in the Sun's Aaron & Sean Schoenke, the "feature-length original digital series" will basically be Ninjak vs the Valiant U.
As you might have guessed, you'll get your first look at the super-secret project at NYCC this week.
"We've been quietly working behind the scenes on this series since 2015 and are incredibly excited to be debuting the first look at footage this year at New York Comic Con. We've set out to make the best and most ambitious series ever produced in the digital space – one that will live up to the high standards we've set in publishing," said Valiant CEO & Chief Creative Officer Dinesh Shamdasani.

"As Valiant gears up for an upcoming slate of film, television and video game releases, we felt the timing was right to begin to produce live-action digital content that would both give ours fans an experience truly worthy of the Valiant Universe, while also introducing new fans to the Valiant characters in the same way the animated television shows of the 1980s and 1990s did for comics in years past. Get ready to lose your mind – seeing Ninjak in action for the first time in nothing short of incredible."
As I mentioned, Ninjak won't be the only hero in the series either. The cast includes Jason David Frank, Derek Theler, Chantelle Barry, Kevin Porter, and Ciera Foster. And it will even feature a special guest appearance by former WWE superstar John Morrison.
Who's who
Just who all the above will be playing in the series, we don't know. It has been rumored though, as to who Jason David Frank will play. Allegedly he'll be decked out in the back tee of that unkillable assassin that you know and love- Bloodshot.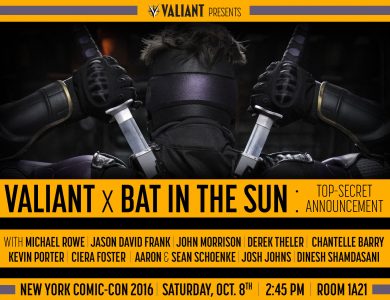 We'll be finding out a lot more about this live action series in short order though, so sit tight. Valiant will be talking about the project at a panel presentation this coming Saturday, in room 1A21 at the Javits Center, at 2:45pm. If you're going to be there, then you'll also want to check out the signing going on at the Valiant booth on the show floor (#1635), directly afterwards. The series' stars will be in attendance.