Netflix' animation projects will be coming to NYCC this week, in conjunction with DreamWorks.
Netflix gets animated
DreamWorks Animation and Netflix have both come to be huge names in the entertainment industry. DreamWorks has been for a while now, but Netflix has been wowing viewers with its original shows and animated properties.
And it's the latter there that'll be taking center stage at NYCC this week. Namely, the two powerhouses will be talking Trollhunter… and Voltron.
The talks will be taking place at a pair of panel presentations, which'll be star-studded. The DreamWorks' Trollhunters panel will have not only creator Guillermo del Toro on hand, but the voice-cast as well. And who might that be? None other than Kelsey Grammer, Ron Perlman and Steven Yeun. Throw in executive producers Marc Guggenheim and Rodrigo Blaas, and you've got a pane not to be missed.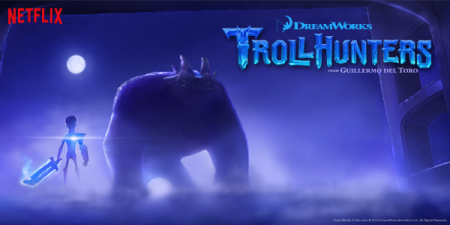 Then there's Voltron. A legion of fans already watch Voltron, as the show heads into its second Netflix season and they're probably not signet to be disappointed with this showing. Executive producer Joaquim Dos Santos, co-executive producer Lauren Montgomery, and story editor Tim Hedrick will all be present. And they'll be joined by voice actors Jeremy Shada and Bex Taylor-Klaus. That should scratch the Voltron itch nicely.
Want more? Then you can catch a special signing from Voltron comics publisher Lion's Forge Comics at booth #1669 and an after party celebrating the show. More interested in Trollhunters? There's a special event for that too, at the Madison Square Garden theater, a few blocks away.
Check out the full list of events below
DETAILS ON PANELS/SCREENINGS AND ACTIVITIES (in chronological order):

FRIDAY, OCT 7:

DreamWorks Voltron Legendary Defender Signing

1:00 PM – 2:00 PM

Table 21 of Autographing Area at Javits Center (Hall 1-B)

A DreamWorks Voltron Legendary Defender signing with Joaquim Dos Santos, Lauren Montgomery and Tim Hedrick will take place from 1:00 PM – 2:00 PM on Friday at Table 21 the Autographing Area located in Hall 1-B of the Javits Center.

Season 2 Sneak Peek: DreamWorks Voltron Legendary Defender, a Netflix Original Series

2:30 PM – 3:30 PM

Main Stage at Javits Center

Catch the world premiere of an episode from the highly anticipated upcoming second season of DreamWorks Voltron Legendary Defender with executive producer Joaquim Dos Santos, co-executive producer Lauren Montgomery, story editor Tim Hedrick and voice actors Jeremy Shada and Bex Taylor-Klaus.  Together they'll discuss what's in store for Team Voltron and provide a glimpse inside what promises to be an epic second season, coming soon to Netflix. All panel attendees will receive an exclusive limited-edition Voltron poster.

Voltron Collective Fan Party

7:00 PM – 10:00 PM

Location to be announced

DreamWorks Animation presents the Voltron Collective, a collaboration of leading lifestyle and apparel brands that have created exclusive product inspired by the Netflix original series DreamWorks Voltron Legendary Defender. Event details to be announced.

SATURDAY, OCT 8:

Lion Forge Comics Signing 

1:30 PM – 2:20 PM

Booth #1669

Lion Forge Comics will host a signing in booth #1669 with writers of the Voltron Legendary Defender comic series Tim Hedrick and Mitch Iverson. A Voltron #1 New York Comic Con Exclusive Variant cover will be available at the booth, limited to 250 copies.

World Premiere: DreamWorks Trollhunters, a Netflix Original Series

3:30 PM – 5:00 PM

Madison Square Garden Theater