A game about time, family and memories.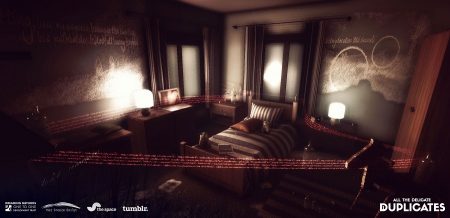 One of the highlights for me at EGX is the Leftfield Collection, which always houses a selection of interesting game ideas and concepts.
All The Delicate Duplicates is a first person game created by Mez Breeze and Andy Campbell, and sees you exploring the story of a computer engineer called John, his daughter Charlotte and his mysterious aunt Mo, who left him a variety of arcane objects when she passed away.
The game explores the increasingly strained relationship between John and Charlotte, who is an artist and has become particularly interested in these objects.  The story takes place over a number of years, as you explore John's house and look at various items.
The relationship between father and daughter is interesting, as it becomes clear that Charlotte feels like she doesn't get any privacy, with the front page of her journal being basically a direct message to her dad, saying he'll probably end up reading it.  Little story nuggets are told with text that floats around the room, and the mystery deepens as you notice Charlotte is continuing to be intrigued by the items and the unusual properties they seem to have.  You even get to experience it yourself, as in one area, you pick up a bottle, but when you but it down, another appears in your hand and this keeps happening for a while.
The gameplay is simple and just has you walking around and interacting with objects, but everything looks very pretty and the atmosphere makes you want to look around and try and figure out what the heck is going on.
All The Delicate Duplicates looks like it's going to be an intriguing game with a mysterious narrative.  You can check out more and sign up for the beta at the game's official website.