The biggest, baddest collection of Mortal Kombat X goodies is coming to the PC with MKXL.
It's like Mortal Kombat, but XL
First, yes that's really the name of this collection, which has been available for consoles for a while now. Second, if you're an MK fan and you prefer the PC, then this is almost a must buy. Well, it is if you don't have all the dlc for NetherRealm and Warner Bros' latest Mortal Kombat game anyway.
Possibly the goriest MK ever, MKX has had an awesome run of extras, with two sets of added characters and some great alt costumes. Mortal Kombat XL will, like its console edition, include all of it too, so this is the mother load.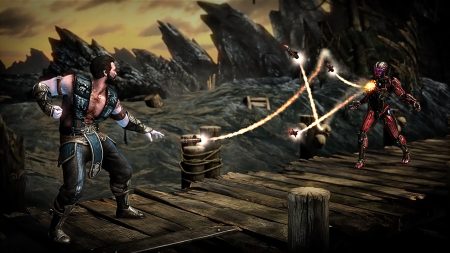 Here's what's included:
Brand new playable characters the Xenomorph from Alien, Leatherface from The Texas Chainsaw Massacre horror film series, Triborg and Bo'Rai Cho
Apocalypse Skin Pack
Previously released content including playable Goro, Brazil Skin Pack, Kold War Skin Pack and Kold War Scorpion Skin
Playable characters Predator, Jason Voorhees, Tremor and Tanya, with each accompanied by three themed skins
Samurai Skin Pack
Mortal Kombat XL arrives on the fourth of October. If you already own the original, you're in for a little something new as well, but nothing as grand as what the XL edition offers. Current MKX owners (playing on the PC) will get a free update that gives "players access to all of the latest balance updates as well as the enhanced online experience, that was available in the recent beta test for the game".