The online, pen and paper RPG company now has something pretty important; the Dungeons & Dragons license.
Dungeon crawling, digital style
There's no company doing quite what Roll20 is doing right now. We profiled the company's entry-level offering recently, and what they've got happening is actually pretty special. If you missed it, click here. The long and the short of it though, is that via Roll20's online system you can play an old fashioned pen and paper RPG with anyone, anywhere in the world.
Up till now though, they've been more indy-leaning with the games that they offered. And while they're still set to provide those lesser known titles to digital-tabletop gamers, with the Wizards of the Coast license, they're going to be offering so much more. And that new slate will start with Lost Mine of Phandelver.
The game is a jumping on point for D&D, and goes "hand-in-hand" with the Player's Dungeons & Dragons Basic Rules Handbook according to Roll20. You can get a copy of that book digitally via the Wizards website (here), and apparently get started with everything in no time flat. Supporting 4-6 players of the level 1 variety, this one is made with ease of use in mind.
Story content is indexed to that end, and battles are all located in a Page Toolbar. Just click 'em and fight 'em out.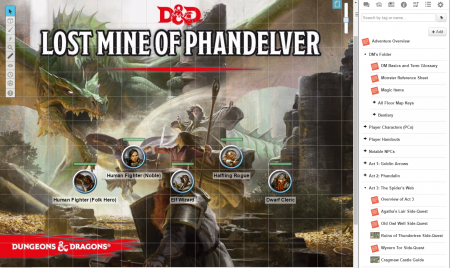 In all, here's what you'll find in the kit:
The entire contents of the Lost Mine of Phandelver adventure.
5 pregenerated characters that players can choose from, complete with the SRD5-compatible Character Sheet.
Image handouts that can be shared with players, collectively or individually.
7 area maps, using official artwork from Dungeons & Dragons. All locations are pre-linked to story entries which may contain additional DM notes, boxed text, encounters, images, and treasure parcels.
Tokens for NPCs and monsters in the module, using the official artwork from Dungeons & Dragons.
Bestiary: includes tokens, character sheets, and descriptions for monsters and enemies that can be encountered throughout the adventure.
Monster Reference: contains information needed to understand creatures that appear within the module.
Magic Items: describes the assortment of magic items that can be found within the adventure.
Lost Mine of Phandelver will run you $19.99 USD and is available right now. It's far from what you'll find eventually from Roll20 though, since the brand new D&D adventure, Storm King's Thunder will also be hitting the platform. You can pre-order that right now on the site, and be playing when it releases some time next month.