Retro action figures are all the rage these days, and Super 7's Street Fighter offerings should put a smile on fans faces.
Round 1, FIGHT
Not that it was all Street Fighter at Super 7's booth on the show floor, because MOTU was there as well. Capcom's ubiquitous fighting game series was front and center though. This was the first time that we actually got to see painted representations of what the final figs will look like. And I have to say, they're pretty awesome.
If you're a fan of what the company has done with the Masters of the Universe license (and Funko's stuff), then I have a hard time imagining you won't like these. Sculpted to resemble 80s-era figures, and with five points of articulation, these 3.75″ toys are all kinds of cool.
The first series includes mainstays for the franchise too. Fans will find Ryu, Ken, Blanka, Zangeif, Chun Li, and M. Bison all included. The company didn't just stop at action figures either. Printed tumblers and even MUSCLE spinoff figures are a part of this new line. It's cool stuff that should appeal to 80s kids, and those who wish they were.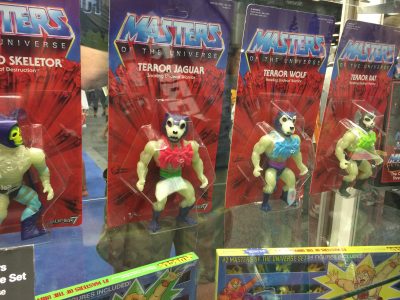 MOTU, Hellboy, and… ALIEN MUSCLE?!
Of course, as I mentioned, MOTU was there as well. Masters had figures on display from the new animated short, as well as new MUSCLE minis. The new Hellboy figures were there too (unpainted as they might have been) and there was a big surprise too with the Alien MUSCLE figures!
All in all, it was a pretty awesome showing, especially if you like classic toys. Check out the gallery below for the visual story.