Like a leaf on the wind, the crew of the Serenity is back in No Power in the 'Verse.
The series that just won't quit, Serenity keeps on chugging. True, there isn't a TV show any more, and more movies seem out of the question (for now anyway). But thanks to Dark Horse Comics, fans are about to have more of Mal and the crew anyway.
With four comic series' already in the books, Dark Horse knows what it's doing with the Joss Whedon-created series. Penned by Chris Roberson and with art from Buffy and Serenity alum Georges Jeanty, the new mini-series sees the crew moving to help an old friend.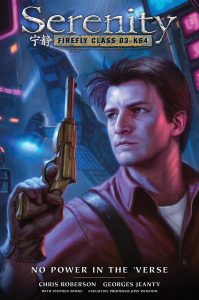 Times aren't the easiest for the characters you know and love in Serenity: No Power in the 'Verse. And with tensions rising between the crew members, an distress call comes in. Left a bit mysterious at present, Dark Horse will say only that "the crew receives a call to help find a missing friend. The crew must come together to discover the answers to her mysterious disappearance. Will they find her in time?"
It's a story that writer Roberson is more than a little excited to tell. He elaborates: "I've been a devoted fan of Captain Reynolds and company since the first episode of Firefly aired, and have followed the exploits of the Serenity crew through TV, film, and comics ever since. It's an unbelievable thrill (and an enormous responsibility!) to help chart the course for their further adventures."
It isn't too far off either, as Serenity: No Power in the 'Verse kicks off its six-issue run this October the 26th.