Red Sonja is coming to video games, courtesy of comic book publisher Dynamite and F84 Games.
The new Red Sonja game will star the title heroine in a "bloody, sexy, funny good time". Oh, and that's according to series writer Gail Simone. And yes, that means that Simone will indeed be involved with the game.
It'll actually be a continuation of her current work in the comic book series of the same name. That book is running now from Dynamite, and has garnered critical and fan acclaim both. Simone will work hand in hand with developer F84, and "spearhead the plotlines, characters, and world" of Red Sonja.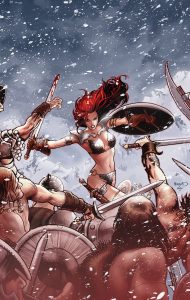 With her behind it, this one's got a chance to scratch that sword and sorcery itch. Landing on multiple platforms (nothing definitive yet), Red Sonja will hit this Winter. Scroll down for some quotes from Simone, and others working with the license.
"There're two things I love in this world without question, and those things are video games and Red Sonja," says Gail Simone. "Gaming is such a huge part of my life, it's what I do for relaxation, socialization, and inspiration, and my game and console collection is a terrifying sight to behold. Mixing my favorite character, the She-Devil With A Sword, with my life-long love of games is a dream come true. We plan on making this a bloody, sexy, funny good time, full of brutal swordplay, cackling villains, and horrendous monsters, all seen through Sonja's trademark wit. I cannot wait."
"Red Sonja is the kind of character you want to walk a mile in her boots; it is the perfect franchise to turn into a video game," said Luke Lieberman, President of Red Sonja, LLC. "We've waited for the perfect partnership and believe Jeff Hardy and F84 Games have a phenomenal vision for the game. Once Gail agreed to be the dungeon master for this adventure, I knew we had something special on our hands."
"We have had great commercial and critical success with Gail Simone's run on Red Sonja and her involvement helps bring that energy and excitement to the game. It's gratifying to work with F84 Games to create such a fantastic game. Fans of Red Sonja will truly be in awe with what we have planned for them," said Nick Barrucci, Publisher and CEO of Dynamite Entertainment. "From the mythology, to Sonja's characteristics and fight style, to the minute details of the Hyrkanian villages – the game will really be a truly immersive experience."
"We're thrilled to be crafting this new Red Sonja experience in partnership with Luke and Dynamite," commented Jeff Hardy, CEO of F84 Games. "The upcoming game will be a great way to bring new fans into the universe. With Gail Simone's poweful narrative, we feel the game will be truly engaging and bring the authentic Red Sonjaquality that fans have come to expect."