World War 1 will not only be the setting for a fantastic-looking game with Battlefield 1, but an art book as well.
Battlefield art book
Ever the purveyors of some of the finest art books around, Dark Horse Comics will produce a tome dedicated to EA and DICE's Battlefield 1. The book "collects hundreds of pieces of art", all from the development cycle of the game. If you've ever bought an art book from DHC, then you know all that entails. While we're at it, you'd also know just how fantastic their books like this are.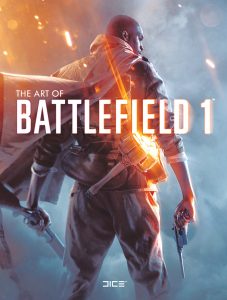 If you're unfamiliar with WWI, then you might be under the impression that there isn't much to base a book of art on.You might think that WWI is a stodgy, visually uninteresting affair. You'd be wrong of course. The first world war was as much a testing ground for engines of destruction as it was a bloodbath in the trenches.
Massive zeppelins, monstrous trains outfitted with cannons, and just about anything else that could be tossed into combat saw action in WWI. Anything and everything went in Europe's first all-encompassing conflagration.
As the Great War rages, heretofore-inconceivable engines of destruction shake the ground and pierce the sky. Cavalries charge across the smoky landscape, legions of riders and beasts locked in a fierce new form of combat. This is the war to end wars. This is Battlefield.
The Art of Battlefield 1 will hit stores on October 25th. That's going to make for a packed week too, as the game lands on the 21st.
Ready to pre-order yourself a copy? Your Local Comics Shop can help you out, or you can get a copy via Amazon, Barnes and Noble, or IndieBound.