Escape your fate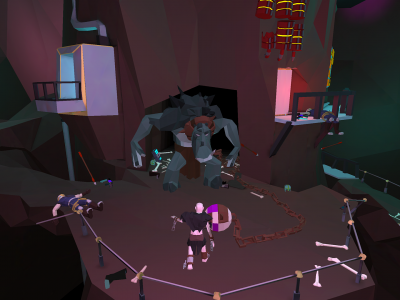 ROK is an interesting take on a futuristic game, where a norseman is taken, and hidden away for many years. Years later a voice in the darkness has come to release him. She teaches him that he has certain telekinetic abilities and needs to find his way out of his nightmarish labyrinth. Stitch Games definately thought outside the box when developing this one.
When I first got my hands on ROK, I had no clue what to think of it. The concept is entertaining, and I was a bit skeptic of an ipad only title. Once I got it installed, and figured out how to move, you couldn't stop me. I had the elevator working and I was on my way.
The instruction is a bit sparse, though visual cues keep you from getting hung up here. Pull down levers, move weights from one side to the other. Fairly simple. Then I found myself in front of a giant troll. I figured I was a goner. No weapons, hardly understood what I was doing. And I died. And died. After half-a-dozen deaths or so, I realized that the troll was short-tempered and wanted to be amused. Either I would move his toy with my telekinesis, or I was lunch. So I played ball (pun intended).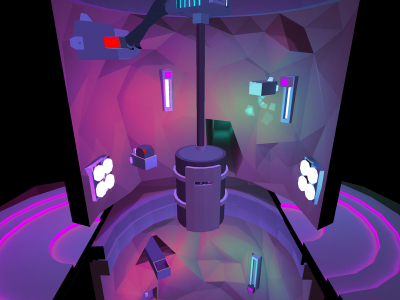 The ability to throw flying valkyrie guards off my platform as quick as they could land took some getting used to. Once I get the hang of it, however, I found myself wanting more. Slide panels open, and lift out dead batteries. Sounds mundane, right? It was a good way to break up the game play here.
Confusion
Once you come to the floating bridges, it gets a bit harder. No descriptions, no guides, you just stand on a platform, trying to figure out what to do. Eventually I was able to discern that I had to lift and guide my platform wherever I needed to go. With limited abilities, however, it did not take long. And then the developers threw an additional wrench at me: multiple platforms going in several directions.
I am certain I missed several opportunities to explore what ROK has to offer here, but I simply had no clue where to go. So, I followed a path, and went with it. Before long, I found myself amidst what I can only call crystal-backed hellhounds. These mutts were blind, but figured out where to go, based on hearing and smell. I must have been quite ripe, because there was no way I could explore beyond them. Over several days, and several attempts. Sadly, this was the farthest I was able to go.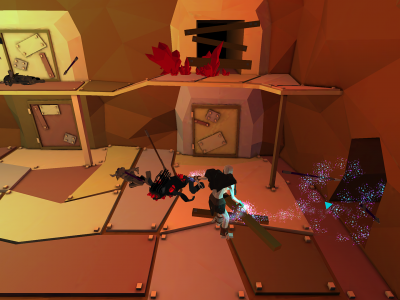 The soundtrack here is sparse, but suspenseful. Unlike some games I have played, I had no problem standing in the corner, and letting the music play.
The overall experience was enjoyable, as was it challenging. In the end, I enjoyed myself, but was incapable of getting past the hell hounds. I was hoping to get past these, and I hope you do as well. There is plenty of material here that this reviewer had to leave in the dark.
If you get further than I did, tell me about it in the comments. I'd love to hear more about it.
ROK is available in the Apple store for $3.99.
Norse Code
Detention Difficulty - 72%
ROK is a futuristic prison break, and as such, nothing comes easy. If you are up for an iPad challenge, pick up a copy of ROK. It will test your abilities. It did mine...