The end of an era is also one of the best games of the year, as the Uncharted 4 takes the saga out with a bang.

Well… I could make this the shortest review in the history of BG and simply tell you to go buy Uncharted 4: A Thief's End. I could, but I'll elaborate a tad, if for nothing else than to keep things interesting.
Uncharted 4 picks up where the only Uncharted game I've never played ends (a fact I'll be rectifying soon), with Nathan Drake having moved on with his life. Nate is married to Elena now, has a home in what looks to be a big American city, and a job recovering salvage with a small company. So, needless to say, things are different for both of them. In fact, even Elena is in a different line of work, having become a writer. The pair don't go on insane adventures anymore, and Nate is officially done with the life of a rogue and a thief.
Maybe.
See, here's the thing (and this isn't a spoiler at all), Nate's brother has just escaped from a South American prison. He was left to rot there when he and Nate had an expedition fall apart years earlier. Nate thought he was dead, but now he's back and in trouble, on the run from a drug kingpin that broke him out (or so we think) and billionaire treasure-hunter/junior Lex Luthor-  Rafe Adler. The only one who can help him is the younger Drake, and you better believe that that 'help' means going on another globe-trotting quest.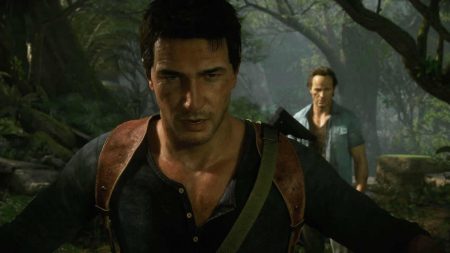 I won't spoil the cast of characters for you, but needless to say, there are a bunch with all the major players in the saga accounted for. They kind of have to be, since this is reportedly the last Uncharted game. With the subtitle being 'A Thief's End', you might be expecting a death or two along the way as well, and that cloud of dread hangs ominously over the majority of the game.
There were more than a few times, especially near the close of the game, when I thought something was about to happen just about every second. This trepidation adds tremendously to the overall feel of this last Uncharted game, and is only enhanced by the fact that the game takes you back and forth in time, letting you play as Nate when he was a kid, a younger adult (before the first game), and in the present. You'll also step into the shoes of one other character, but I won't spoil that for you either.
Needless to say at this point, the story presented here is fantastic. The development team at Naughty Dog has outdone itself, crafting a winding and interwoven tale of back-stabbing that explores familial ties, loyalty, and obsession, all set against a hunt for one of the biggest treasure hordes of all time (and the recovery of a lost city to boot).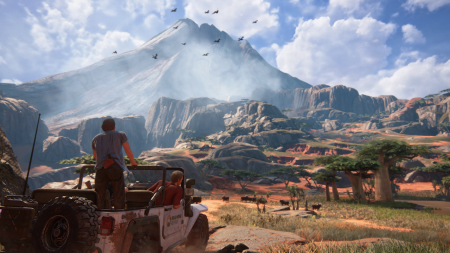 Bringing this all to life are some of the best graphics on the PS4, and easily the best of the series. If you're familiar with Uncharted, then you know that's a big statement, but it's accurate as this first (and last) game in the set to arrive on the PS4 is glorious. I mean, really- you'll stop to admire the scenery so often it'll get to the point where you feel like you're doing more gawking than shooting and climbing. Not that there's any shortage of either of those elements.
The bread and butter of the franchise is alive and well in Uncharted 4, as Nate and co. will climb almost every rock formation and scamper across rooftops aplenty, all while shooting dozens of bad guys.
If there's one thing that I'd change about these games, it's the amount of combat present. Don't get me wrong, the firefights that punctuate the exploration segments are well done indeed, but I've always thought that they should be stocked with way less enemies. Making bad guys harder to kill, while cutting down on the total number of them would make for more interesting battles, and also put even more of a spotlight on the cinematic elements at play.
Fortunately though, the gameplay is as sparkling as ever for all of the above, making both of the game's main elements engrossing and -most importantly- fun. There's even something new, as Nate can now swing via a grappling hook, which gives the game an even greater Indiana Jones feel. Some of the cliffs that you have to swing from later in the game might even give you a bit of acrophobia, I know they did for me.
The selection of hardware is also terrific here, with everything from pistole's to RPG-launchers at your disposal. Though, with all that good, there is one iffy proposition, and that's the stealth gameplay. No, you didn't read that wrong, Uncharted 4 has more than a couple of segments that call for stealth, and it's done… not so great.
This is chiefly because there's a very limited situational awareness function, and that's a bummer. So while you can crouch in the tall grass, and hide behind crumbling walls to get the silent drop on your enemies, it's rare when you can actually see them.
Unless you really take your time, and I mean really, really take your time, you're going to get spotted. Yes, there are meters above enemies' heads that will fill up (quickly) to tell you when you've been seen, but that won't matter much if the guy doing the spotting is behind you. Even some little arrows pointing off screen to give you a general idea of where the baddies are would have been great, but you don't get anything.
Is it game breaking? No, not by a long shot, and it's actually kind of fun to sneak around breaking necks instead of all-out assaulting enemy encounter, I just wish it had been done better. It's kind of a blemish on what's otherwise a stellar exercise in design and gameplay.
Oh and speaking of 'stellar' actor Nolan North is once again phenomenal as Nathan Drake. His performance is every bit as full of personality and life this time around, though ever-so-slightly more muted than usual at times- but don't worry, it's fitting for the story. Likewise Troy Baker, Emily Rose, and the great Richard McGonagle are exceptional as Nate's bro Sam, Elena, and Sully respectively. And a special note goes to Laura Bailey who delivers a terrific turn as Nadine Ross and Warren Cole, who is absolutely fantastic as the slimeball Adler. It's just a great cast all-around.
But honestly, everything is, with the exception of the sneaking. If Uncharted 4: A Thief's End is indeed the last game in the series, then it's going out on top. And it easily could be the final adventure for this cast by the way, so don't go into this one thinking that it's a come-on, as Naughty Dog wraps everything up in a satisfying way.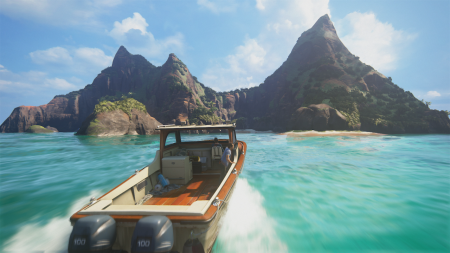 Also worth mentioning is the multiplayer, which is fun, though honestly kind of unnecessary. Multiplayer modes can add a lot of replay value though, and that's what this one is perfect for, adding in a reason to fire up Uncharted 4 time and again, once you polish off the campaign once or twice.
There are also a series of unlockables that you can open up using currency that you get from playing. These include new skins, weapons, and even filters (there's a super-cool 8bit one) for the game's photo mode, which honestly is so ridiculously tempting to hop into every five minutes it's not even funny. Hey, trust me, you'll want to take a lot of shots too – this game looks that good.
Bottom line; if you're a fan of the series, or have never even tried a Nathan Drake adventure before, Uncharted 4 is a game not to be missed and one that'll be at the very summit of plenty of GotY lists come year end.
If you have the time though, and you aren't already versed with Naughty Dog's treasure-hunting masterpiece, then I recommend you also pick up The Nathan Drake Collection (also for PS4), and play through the series in its entirety. It's been one hell of a ride.
A Thief's End
Graphics so good, you'll think you're in Madagascar - 95%
Flawless music and vocals highlight the story - 100%
Stealth isn't Nate's forte, but everything else is near perfect - 90%
Is this a quest worth taking? Oh yes. - 97%
With excellent graphics and sound, an incredible cast of voice talent, and a script that is loaded with shocks and twists, Uncharted 4 hits all the high notes in terms of presentation. Add to that perfectly tuned gameplay, and even a shaky stealth system can't ruin what's one of the best games of 2016.