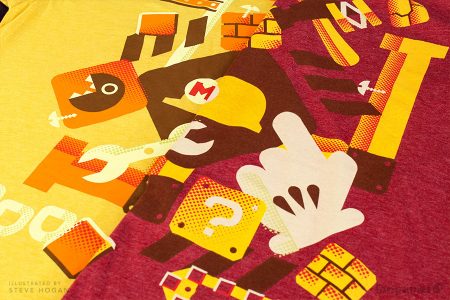 A fan of many games and movies, but you don't quite want to wear the tell-tale logo or icon on your shirt. Make people think about what it is, or where it came from? Then you are in luck!
Fangamer offers products inspired by the games we love. This puts a unique spin on our favorites, some old, some new.
Take a look at the example, shirts in either yellow or red, and show many of the details that make a good Mario game. Though, in this one there is no Mario. Personally, that just makes me like this a little bit more.
In the second picture, take a look at the right shoulder. It is covered in some classic game artifacts. Were you able to figure it out? That is more Mario detail. The pipes and vines of so many levels over the years. Who can't appreciate that?
Anyone who has spent their time playing these games will probably recognize what is in front of them. Though some of their offerings are less obvious. Add to that, most of their shirts come with either a corresponding sticker or pin. That is a win in my book.
Fangamer also offers hoodies, books, posters and figures. Something for every one.
You can find unique takes on Legend of Zelda,  Final Fantasy VII, Mario Kart, and even Star Fox, just to name a few. See how many franchises you recognize, at fangamer.com