It's a three-way match for the ages, as Predator meets not just Aliens, but Judge Dredd too.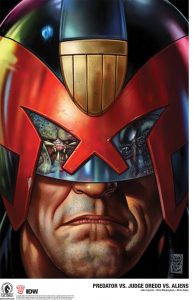 Now here's one that you're not going to want to miss out on, especially if you're a fan of all three of these legendary properties. The trio of Predator, Alien, and Dredd have previously met up with all manner of fellow comics characters from across company lines, but never have all matched up together, in one book to end 'em all. This Summer that all changes with Dark Horse Comics' Predator vs. Judge Dredd vs. Aliens.
The book will be penned by Eisner Award–winner John Layman and co-star the art of the very talented Chris Mooneyham, who's extremely familiar with two-thirds of the three characters here since he previously worked on Predator: Fire and Stone. Add to that the cover art of one Glenn Fabry, and you've got what should be a winner of a four-part series.
"Predator vs. Judge Dredd vs. Aliens is just the sort of concept that would have Teenage John Layman wetting his pants with excitement…just at the possibility of reading it. Here, many, many years later, Old Man Layman is writing it, and it's still every bit as thrilling," remarked writer John Layman.

"This really is a dream-come-true project for me. I got to work on Aliens once before—a super cool experience, and one that was always on my creative bucket list. Dredd's been on the bucket list as well, and you throw Predator into the mix, and it's a trifecta of awesome. I'm loving every minute of this project so far," added Layman.
Excitement of the creative team aside, the story sounds pretty wicked. Taking place in the Cursed Earth (the Dredd universe's wasteland, outside of the mega-cities), Judges Dredd and Anderson have tracked a mad scientist to his lair. They're probably not going to like what they find there though, since he's been experimenting with xenomorph DNA derived from a skull that he's come into possession of.
And then you can add to that the fact that a Predator has picked up the trail as well, being lured in by the hot temps of the post-apocalyptic wastes and the good hunting. Oh, did I mention that he's called down a hunting party as well? Yeah this one's going to be a barn-burner.
Issue one of the four-part Predator vs Judge Dredd vs Aliens is set to open things up on July 27th. Right in the midst of the Summertime… perfect for a certain reptilian hunter.