We recently had the Final Fantasy Trailer "Reclaim your Throne" shower us with some feelings of nostalgia and, of course, hype. I say nostalgia because maybe like me, you've been waiting for Final Fantasy XV for the better part of a decade already. We've had good games that people either loved or hated (I'm looking at you Final Fantasy XIII) between 2006 and today but thankfully, our wait is nearly over.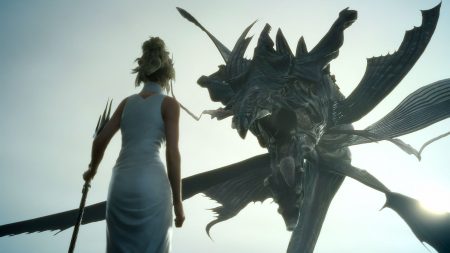 Simply put, the trailer for Final Fantasy XV was epic. Acting as though it was the emissary of an upcoming God among games, Reclaim your Throne had everything people could want from a video game trailer. It had foreshadowing, some plot exposition, wonderful music (more on that in a bit) and of course, Luna.
While Luna, the heroine of Final Fantasy XV (Cid, you're a Heroine for me too) was not the focus of the trailer, we do however have some good news. An upcoming movie that ties-in with the game will feature Luna to be voiced by Lena Headey and joining her is an ensemble cast.
Moving back a little to the trailer, I mentioned that Reclaim your Throne had great music and it did. After weeks of speculation about the main theme of Final Fantasy XV, the trailer revealed in a grand manner that it was going to be Florence Welch of Florence and the Machine who will be lending her vocals to the upcoming game. At around the 1:20 mark of the trailer, the familiar Final Fantasy prelude accompanied Florence's wonderful rendition of Ben E. King's Stand by me which highlighted the bonds between Noctis and his friends. Honestly speaking, just this song alone was enough to move me to become an instant fan of Florence and the Machine.
True that it was the music that set the tone of the trailer, but of course alongside that were the impressive visuals that seemed to push the limits of what the eighth generation consoles can do. There are many uncertain things about the upcoming game but one thing is for sure, I wouldn't miss it for the world.
What are your thoughts on the Final Fantasy XV trailer 'Reclaim your Throne'? Kindly share them with us in the comments below!