Dark Horse Comics' newest Aliens series starts off with a bang, with xenomorphs, rogue synthetics, and a familiar face.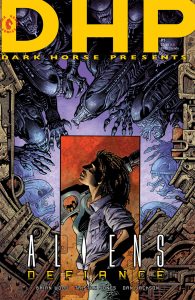 Just the latest in a long line of comics from Dark Horse based on sci-fi/horror film franchise Aliens, Aliens Defiance nonetheless manages to separate itself from the pack pretty much right away. The book calls to mind both new and old parts of the Aliens mythos, and keeps the action and revelations steady all the way from the front cover to the last.
When things open on the story, we find colonial marine Zula Hendricks struggling. Though we don't find out what happened, it's obvious she's been through a crippling injury and is basically being rebuilt with spinal and leg surgeries.
That's not to say that she's confined to a chair though, as Zula is able to stand and work right along side her fellow soldiers thanks to a special harness fitted to her in the hospital, on the lunar base of Tranquility. We even get a glimpse of Amanda Ripley from the Alien: Isolation video game in the base, a super-cool touch. There's also mention of Sevastopol Station, which was also featured in Alien: Isolation, but the less said about that the better (what with spoilers and all).
As for Zula, she appears to be recovering well, in fact she's even been sent on a mission, albeit one set inside our own Sol System. It's a trip where she'll be heading to a derelict ship and accompanied by a squad of Weyland Yutani synthetics, what amounts to robot humanoids. And if you're starting to get the feeling that things are going to go south here, well, you're right.
In the Aliens universe, there's little involving 'the company' that actually goes off without a hitch, and to call them underhanded is probably way too much of a compliment. As such, the derelict is actually not without crew… it's just that the crew isn't human.
I don't want to spoil too much here, as there are some actual shocking moments in the opening issue of the book, not the least of which involve that synth crew of troops. I will say that it's an extremely cool opening shot for the book, and one that's crafted beautifully, ensnaring this long-time Aliens fan almost from the jump.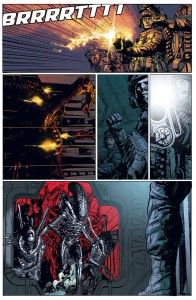 That's not to say that it's not made 'available' and understandable for newbies too though, because it definitely is. Brian Wood's script is masterful, laying out the necessary elements that you need to know, for this first leg of the narrative anyway. Even if you've never seen an Aliens film or read one of the thousands of comics to hit the racks over the years, you'll soon know all there is to know about the species of deadly extraterrestrials, and the various human factions as well.
Oddly, even though there's plenty of explanation about the 'who's' starring in the book, there isn't too much exposition on some of the plot points. I found myself wondering if I'd missed something a couple of times as I read through, since some story points seem to be somewhat glossed over. I'm going to chock that up to the fact that Zula is kind of kept in the dark about some of it though, and see what happens in future issues.
Outside of that, Wood is just a tremendous writer, and he shines here crafting what feels a brand-new jumping on point for Aliens. It's fresh and engaging, with quality characters, an instantly likable main character, and (as I mentioned before) some elements that are pretty unique for a xeno-centric story, especially in the squad of heroes.
Framing all this is a terrific penciling of Tristan Jones, who's work you might recognize from TMNT and the recent Mad Max comics from DC. It's absolutely fantastic with a realistic look and a gritty tone that perfectly lends itself to the Aliens IP. He's adept at carrying across emotion too, and the stark difference between the facial contortions of Zula and the synth soldiers is terrifically realized.
Final Thoughts
If you're an Aliens fan, then I can recommend Aliens Defiance without a second though. If you're not, well I do just about the same. Wood's writing is as great as always and Jones does an excellent job detailing the visuals.
If this opening issue is anything to go off of, then Aliens: Defiance is going to be a series that you're going to want to add to your pullbox as soon as possible.
This review was based upon an issue of Aliens Defiance provided to BG by Dark Horse Comics. It has a PREVIEWS ORDER # of FEB160010