I was so excited for this game, that I convinced my fiancé to pre order the Sleeper Agent Edition. It didn't take much to be honest, the edition was well worth the monies. Check the link here for the unboxing of the edition and a few words about the goodies included.
The Division's dark future
The basic plot line is about a man made virus, taking over Manhattan on Black Friday. Passed around and incubated in money, the virus nick named 'Green Poison', takes out quite alot of the population, causing an extreme panic and the JTF closing the city down into quarantine. In the mean time, a second task force, known as the Division, sleeper agents specifically trained for such a disaster, are activated and called into duty.
Various enemy gangs are situated in their own zones around the city, and your job is to neutralise them and complete missions to stabilise the city, and help find a vaccine for the Green Poison. Rikers are a prison gang, escapees of the infamous Rikers Island, led by Larae Barrett, then we have the Cleaners, they were sanitation workers before the virus hit, and their leader, one Joe Ferro, organised them together under the premise that fire will cleanse the city of the bug, and bring order again.
Rioters are also a big part of enemy encounters, although these are thought to have no loyalty, they are civilians out for themselves to survive any way possible. Lastly, and rightly so, are the Last Man Battalion, AKA the LMB. Originally hired by Wallstreet, Charles Bliss and his men were a privatised military company brought in to protect important assests, but later their mission was found to be abandoned due to the seriousness of the outbreak. This angered Bliss, for lack of a better term, and so he and his men take it upon themselves to attempt to take back New York and implement their new world order.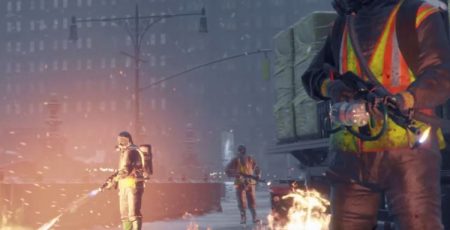 Graphics and customization
Graphics wise, the game is just beautiful, the end of the world never looked better. Detailing on buildings, characters, even the wandering civilians is astounding. That said there is still a few foot falls, such as glitchy deaths, and the odd detailed speech from passers by. I particularly enjoyed the rats and dogs roaming the streets, it added a touch of realism, that really hit you, this is could happen, and it could look like this.
There were of course a few buggy moments, as with most largely online games, but all in all, this was ready for release on the day it came out, the day one patch did not make any major differences, and that is exactly what you want from these major title releases, especially when they have been in production for so long.
The character customisation is vast, you start off by designing your basic player, but through-out the game you have the opportunity to not only change weapons and equipment, but also your clothing, some outfits in which were included in special edition of the game and sold on the retrospective online game store. Your character's weapons will become obsolete as you level, so the game will allow you to dismantle armour, guns, and such for parts, to either craft new items, or sell for credits. Other crafting items can be found within the game world.
A deep and open world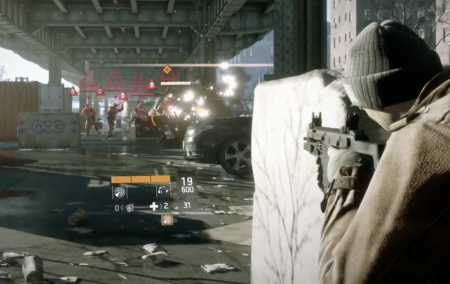 Upon exploration of what can only be described as a vast open world New York jungle, you will find many collectable pieces of information, which you can view in your main menu, and complete a varied range of encounters, JTF missing agents, side missions, and of course the main missions where all the major plot points come to head, and the story progresses.
What makes this really interesting is, you can choose to do these missions alone, or matchmake with other players online of a similar level, and use your team to the advantage to complete the mission.
Even better is once its done you can re-do a mission as many times to help aid your level to increase, there is a handy guide of which level you should be for every mission, and even some areas on the map, very helpful if your new to TPS, or just shooters in general.
I found the gameplay simple, but still difficult to master if you are not a pro at shooters. It is very much duck and cover, if you want to live. Charging your enemies will only get you killed, and in this game, getting killed is extremely frustrating. Yet the feeling of elation when you've taken out a whole gang of rioters is a very satisfying feeling.
Tom Clancy's The Division
Release Date: March 8th, 2016
Platform: PS4, Xbox One, PC
Publisher: Ubisoft
Developer: Massive Entertainment, Red Storm Entertainment
Exciting Clancy-themed action
A twisting, turning story - 85%
Action-packed open-world - 90%
Glitchy, but awesome graphics - 80%
Frankly, I'm going to be playing this game for such a long time, I enjoyed pretty much every aspect of the game, and I still am, the only thing I have yet to experiance is the Dark Zone, the online mulitplayer, which I shall cover in an upcoming review, so please check back for that one. Ubisoft really have outdone themselves with this game, the graphics and story are just amazing, I predict big things from this game this year. If you are a Tom Clancy fan, or a shooter noob, please go buy this game, you really will not regret it. Comment below your thoughts on the game. Thanks for reading. 😀