It looks like there might be a mutant resurgence hitting Marvel's X-books this year.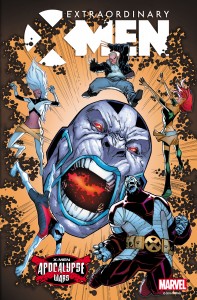 If you're an X-Men fan, then chances are that you've felt like Marvel Comics has been down on the brand to a great degree as of late. Of course, there'd be a reason for that, as many fans (including me) have seen this downturn in the brand's comic books linked to the fact that Fox controls the movie rights to the X-Men.
That basically means that Disney/Marvel can't use these characters in their own films (the MCU) and that the X-Men and their related characters heave to exist as an island unto themselves in the world of film. You can see why that might aggravate Marvel, to put it mildly. And while they've certainly not said anything to confirm a move like the one that was suspected by the fanbase, I don't think it's a stretch.
After all, in the last few years we've seen the X-Men shaken up to the level where they're  hardly recognizable for longtime fans, as well as the death of Wolverine, arguably still the most popular X-Men character. There's also been a dearth of X-centric crossover events, with the last one being AvX in 2012, which also focused on the Avengers (a Marvel film property) and cast the mutants as more or less the bad guys of the story.
Here in 2016 though, it looks like that might be changing.
"In the same vein as the classic event "Fall of the Mutants", APOCALYPSE WARS is a thematic crossover that sees each of the three X-Men titles telling an Apocalypse-centric story organic to its own mission statement," says Editor Daniel Ketchum. "Because it's not a single tightly-knit storyline, each creative team has the breathing room to tell their unique version of an Apocalypse story that will have lasting consequences for their cast of X-Men."
Yep, that's right, Apocalypse takes the center stage this year in the X-books – a year that also sees Apocalypse starring in the newest X-Men film, X-Men: Apocalypse. It's not a tie-in to the movie at all, not that you'd expect that anyway since the movies are separate entities, but it looks like a definite step in the right direction to get the X-brand headed back to where it should be.
There's also a new line of Marvel Legends action figures based on the X-Men coming this year, headlined by the long-awaited Jim Lee-inspired Rogue figure. The series follows up on the less-than-impressive wave of TRU-exclusive figures from 2014 and adds even more fuel to the fire that the X-Men are back in a big way.
Here's your official rundown of what's on the way from Marvel Comics, kicking off in March. As for X-Men: Apocalypse, the movie opens in theaters on May 27th.
It all kicks off this March in EXTRAORDINARY X-MEN #8, as Jeff Lemire and Humberto Ramos take you into the distant future! Mutantkind is an endangered species once more. What better way to ensure your people make it to tomorrow…than to skip right to it? As the mutant race's last hope is jettisoned into the time stream, it's intercepted by one of their most formidable adversaries – APOCALYPSE. Now, Storm and the Extraordinary X-Men must race into a perilous and deadly future if they are to have any hope of reclaiming the present!

Then in April, Cullen Bunn and Ken Lashley bring the "Apocalypse Wars" to Magneto and his squad in UNCANNY X-MEN #6. There is something wrong with Archangel. Aim him at his target and he will destroy. Beyond that, he is little more than a lifeless drone. And it's time Psylocke got to the bottom of why. What really happened to put him in this state? Only one thing's for sure: her quest to uncover the truth will lead to a lot more than she bargained for…

Finally, in May, ask yourself – can you change your fate? As the young X-Men strive to shirk the legacies left to them by their older counterparts, they'll crash headlong into "Apocalypse Wars" in Dennis Hopeless & Mark Bagley's ALL-NEW X-MEN #9!  Their uncertain future hangs heaviest on young Evan – also known as Kid Apocalypse. Is he destined to become a genocidal madman like his namesake? Or will he rise above? He will be tested like never before, and truth will shock you!