Playing PC games on an all-in-one isn't something that most gamers would probably find too appealing, but the Alpha 34 might just change your mind.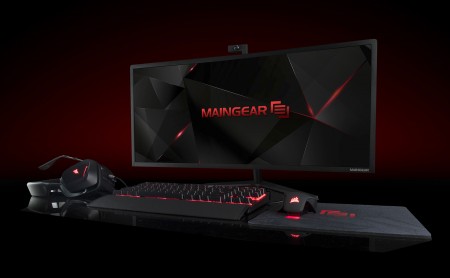 "The superb combination of Intel's blazing fast processors with state of the art graphic cards and an astounding screen, gives ALPHA 34 the muscle to handle any task while being the centerpiece in every room," says Wallace Santos, CEO and Founder of MAINGEAR.  "ALPHA 34 is a super stocked modern dream car with old fashioned muscle under the hood that is perfect for gaming, movie watching or even designing in Adobe's Creative Suite."
I know there are other all-in-ones out there already that have a gaming tilt, but this new unit from Maingear looks like a beat and a half. Why? How about an 8 core Intel Extreme Edition processor or an 18 core Xeon processor? Not impressed with those options? How about a 34″ curved monitor and a choice of three kick-ass GPU's?
Here's a blurb about the spec list:
MAINGEAR's ALPHA 34 demolishes benchmarks and delivers a breathtaking experience out of the box with a combination of Intel 5960X processors; NVIDIA 980Ti, Titan X or AMD Radeon R9 390X; 32GB of premium Kingston DDR4 RAM; and Samsung 950 Pro M.2 NVME SSD hard drives.  The ALPHA 34 also features a gorgeous 34-inch curved display capable of pumping out eye-opening graphics with a magnificent 3840×1440 resolution.

ALPHA 34 is completely customizable and fully upgradable, assembled with standard desktop components, and can push performance limits with full-sized desktop gaming and workstation graphics cards.  MAINGEAR's ALPHA 34 also features maintenance-free closed looped liquid cooling to ensure quiet and cool operation under the most stressful situations, along with Intel's future-proof and upgradable webcam.
Impressed? I haven't been in the build-a-PC game in a while (bought a new gaming system a few years back), but pretty much everything that Maingear is saying here has my attention. All-in-ones of course are pretty nifty for a few different reasons, space-saving being chief among them, but I haven't seen one that looks as great as this one.
The systems are now available for customizing on Maingear's website and will cost you $1999 at a base price.