If you're an Aliens fan, then you're going to want to have a peek at what NECA has in store for 2016. The first wave of Cinemachines focuses on the classic horror series of films, and looks pretty phenomenal.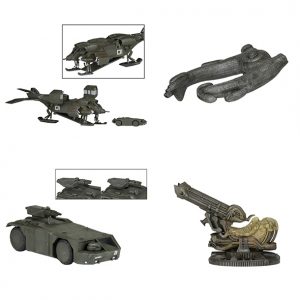 Well, this one's for you if you love one of the biggest horror film franchises of all time. Aliens has birthed some of the coolest stuff in terms of not only characters and monsters after all, but vehicles as well. Cinemachines takes full advantage of this, and intro's some of the coolest stuff that you could have rolling across your desk that I've ever seen.
Kind of like Micro-Machines on steroids, NECA's newest line will kick off with the iconic Drop Ship and APC from the second film, and the derelict Engineer's ship and 'Space Jockey' from the original Alien. Also pretty awesome, is that a mini version of the APC comes with the Drop Ship as well, and it actually loads up into the bely of the orbital drop ship, just like in the movie.
Aside from looking cool, the Cinemachines seem to be really well-made too. Constructed from plastic and die-cast metal, each hand-painted vehicle measures from 5-6″ in size, and will sport what NECA says will be "exceptional detail". And if you're already a fan of the company, then you know that was probably something that didn't even need to be said.
Here's the official rundown of what'll be hitting the shelves in April of 2016:
• UD-4L Cheyenne Dropship, with miniature Armored Personnel Carrier that fits inside the bay (Aliens)
• M577 Armored Personnel Carrier (Aliens)
• "Origin" Derelict Ship with display stand (Alien)
• Fossilized Space Jockey (Alien)
NECA is also asking that the series won't stop at Aliens, as they promise that Cinemachines will be "celebrating some of the most iconic vehicles from film and television". Certainly sounds like there's plenty more to come with this line, so stay tuned.
Check out more shots of the miniatures in action on NECA's official site here.