When is a nightlight smart? When it can monitor your home and let you know if your smoke alarm goes off.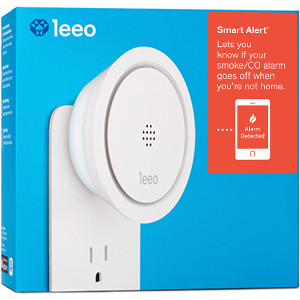 A very interesting little device, the Leeo is pretty unique and something that I haven't seen before. There are some things out there, after all, that can monitor your home for fire and carbon monoxide alarms. The thing is, I doubt there are any devices that set up as easily and hassle-free as the Leeo does, while maintaining a high level of functionality.
And man, setting up this little guy could not be easier.
All you need do, is plug the Leeo into any standard outlet – you don't even need a grounded outlet, any will do. There are no buttons save one on the Leeo itself, and there's a cool ring of light that encircles the device. That's what they mean by the 'nightlight' tag, and it actually can illuminate a small room or section of hallway quite well. You can even change the color of the light, but more on that in a second.
After you plug the little guy in, the Leeo activates and looks for your device, and by that I mean your phone. The Leeo works exclusively via your mobile, but again, there's no muss no fuss here. Once you have the Leeo jacked into the wall, you download the free App to your iPhone. Yep, the App/device is exclusive to Apple's cell phone series right now, though I'd imagine that if the Leeo does well, there'll be some Android support on the way. Update – The Leeo actually works on both iOS and Android devices. I'm not sure why I thought it was Apple-exclusive, but it isn't so yay. Anyway, once you have the App, setup takes all of a few seconds. Well, for the most part.
I did have some issues with finding the device via the app, once everything should have been up and running, though even that little issue only took about a minute to figure out and 'fix'. So onto the functionality.
From the Leeo app you can assign individual Leeos to different sectors of your home, or even other locations all together, and keep them all filed neatly for quick reference. It seems as though the app can be worked to build quite a little network of Leeos, which is pretty cool. After you name and set the location for your Leeo, you'll head to the main front-page.
There you'll see the temperature and humidity for the area, which I wasn't expecting and is really neat. You can also blow up these elements, and see meters showing the same info, and set alerts for both, so the Leeo can reach out and let you know if the temp or humidity gets too high or low (all settable by you). There really isn't a ton of added info to glean from these bigger meters, but they do look nice and have an interesting 'meter'-like appearance.
Above that, you'll be prompted to add in the specific sound of your smoke detector and/or your carbon monoxide detector. As with everything else, that's a simple task too, as the Leeo just listens in for the sound of your detector, so all you need to do is tap that option on the app and then hit the test button on the detector in question. Once you set it, the Leeo knows what it's listening for and can react.
You can also add, though you don't have to, numbers and emails for additional contacts other than yourself. The Leeo will then use any added people's contact info in the event that you don't respond when it sends out an alert. So it'll try you first, but if it gets the silent-treatment, it'll try someone else.
And, as I mentioned earlier, you can also change your Leeo's light ring to just about any shade that you can imagine right from the App. Yes, it might be a little unnecessary given the actual function of the device, but just think of this feature as a little added bonus – an awesome added bonus that means that you can add a little seasonal lighting to your hallway, bathroom, kitchen, wherever.
Final Thoughts
I'm pleasantly surprised by the amount of info and home monitoring that you can get out of the Leeo. Not only can you remotely be contacted if your smoke or carbon monoxide detectors go off, but you can also keep tabs on temperature and humidity, which is pretty great. On top of that, the app is painfully easy to use and the options for setting up different residences, different locations in each one, and backup contacts are all perfectly executed.
I guess it would have been nice, if there was some way for the Leeo to directly contact fire and emergency services for your area, but having it send out emails and phone calls to a list of people that can help and actually make those calls to the fire department is the next best thing.
If you're looking for a device to add some simple home-monitoring to your domicile, I'd highly recommend the Leeo. As long as you have a detector, a wi-fi network, and a mobile phone (all required for the Leeo to work), it's kind of a no-brainer.
This review was based upon a Leeo Smart Alert Nightlight supplied to BG by Leeo Inc.