Looking for something to give (or get) this Holiday Season from the comic realm? Then Diamond's list of all things cool will probably have something for you.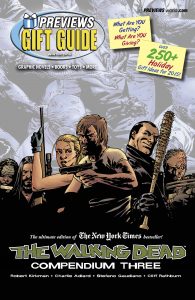 Well, it's that season again. The time of year that causes 'gift guides' to start popping up all over the place. And while our own in-house guide is still in the works and scheduled to arrive on Black Friday, we do have this nifty little book to report on. Available right now in finer comic shops everywhere, as well as online, PREVIEWS 2015 Holiday Gift Guide is packed with items from across the comic book (and associated) industries.
There's literally hundreds of different "graphic novels, manga, and other licensed pop culture collectibles and toys" in this book, all of which should be right on target for most fans. So if you're looking to put together your wish list for the season, or are starting your search for some giftables for that special someone, you should probably be checking this one out.
You can more than likely get a hard copy of the PREVIEWS 2015 Holiday Gift Guide at your local comics shop (if they carry Previews magalog… and they probably do), but if you want to get started on some gifting or getting right this very second, click here for the digital edition. Available via Issuu, you can read the book in its entirety there.