Available now from Turtle Beach are two flavors of Sandtrooper headsets (one's a Best Buy exclusive) and an X-Wing pilot headset.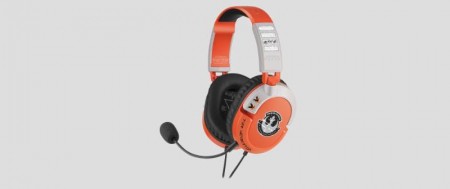 "Star Wars is one of the hottest, must-have consumer brands heading into the holiday season and we've got two truly unique, high-quality Star Wars-inspired headsets fans will definitely want to add to their collections," said Juergen Stark, CEO, Turtle Beach Corporation. "Turtle Beach is filled with hardcore fans, so it's been a real pleasure for us to design these two headsets that will let gamers further immerse themselves in the Star Warsuniverse."
I think pretty much anything that you can say about Star Wars at this point would come off as an understatement. The brand is just massive right now, and the excitement for the new trilogy is at a fever pitch. It's big big, and what Turtle Beach has cooked up for their part in crossing over with the Galaxy Far, Far Away is definitely worth a look for fans.
We've already profiled both, but since we're pretty close to the release of the film as well as  Star Wars Battlefront (the game), I thought we'd remind that these are some pretty slick looking headsets. Compatible with pretty much everything out there that accepts a stereo headphone cable, both the Sandtrooper and X-Wing Pilot headsets are available for purchase right now, with a second limited edition Sandtrooper headset being on sale exclusively at Best Buy stores.
Here's the specifics:
Turtle Beach's Sandtrooper gaming headset works great with PlayStation®4, Xbox One, PC and mobile/tablet devices and features an over-ear design for extended comfort, plus a removable high-sensitivity boom mic, and thundering 50mm speakers to deliver sound the way Star Wars is meant to be heard. It also includes one set of removable speaker plates that can be swapped out to show off different Star Wars characters and iconic franchise moments. Plus, only available as part of the limited edition Sandtrooper headset offered at Best Buy in the U.S., a second set of swappable Star Wars speaker plates is also included for free.

The X-Wing Pilot headset is an entry-level gaming headset that works with PS4™, Xbox One and mobile/tablet devices and is built on Turtle Beach's all-new lightweight and comfortable Recon series headset design. The X-Wing Pilot headset features over-ear, synthetic leather-wrapped ear-cups with big, booming 40mm Neodymium speakers that deliver sizzling highs and thundering lows. It also comes with a removable high-sensitivity boom mic and convenient in-line controls for Master Volume and Mic Mute. Fans can use the X-Wing Pilot headset for playing games like Star Wars Battlefront, and also use it to enjoy their favorite movies, music and more.