The first wave of Gotham figures makes its way into stores this week, along with a selection of Minimates from a smattering of different undead-themed properties.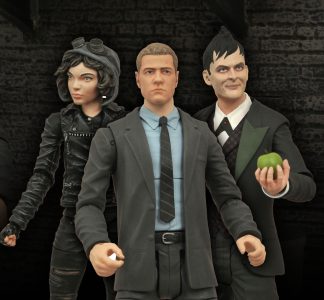 Gotham (and Batman in general really) leads the way this week for DST's new releases into comic and specialty stores, but that's far from the only property that makes an appearance. Zombies are everywhere this week too, with zombified Minimates belonging to Marvel, Jay and Silent Bob, and of course The Walking Dead chewing on store shelves as well.
And if you're not into the rotten kind of monster, then maybe some old school Universal Monsters will fit the bill. Or how about the king the kaiju with Godzilla?  Or maybe you like your 'horror' a little more grounded in reality and would prefer the gunplay antics of Pulp Fiction, which also gets a new Minimates set this Wednesday.
Your pick; as usual though, it's pretty much all worth your while. Scroll down for pics and descriptions.
Batman Classic TV Series Logo Cookie Jar – A Diamond Select Toys release! Holy ginger snaps, Batman! The newest DST product inspired by the Batman Classic TV Series may be their most tantalizing yet! DST has taken the famous Batman TV logo and turned it into an approximately 12″ wide ceramic cookie jar – remove the inset lid at the top to fill it with cookies, treats or evidence! Comes packaged in a full-color box. (Item #JAN152173, SRP: $39.99) http://www.diamondselecttoys.com/batman-classic-tv-series-logo-cookie-jar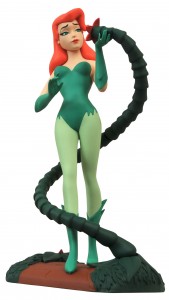 Batman: The Animated Series Femme Fatales Poison Ivy PVC Statue – A Diamond Select Toys release! DST's line of Femme Fatales PVC statues based on the women of the DC Animated Universe continues with Poison Ivy! Based on her appearance in Batman: The Animated Series, this PVC statue of the plant-loving Pamela Isley stands 9 inches tall atop her diorama base, and depicts the villainous vixen visiting with a vine-like friend, perhaps discussing how best to entangle the Dark Knight. Packaged in a full-color box window box. Sculpted by Steve Varner Studios! (Item #MAY152173, SRP: $45.00) http://www.diamondselecttoys.com/batman-animated-series-femme-fatales-poison-ivy-pvc-statue
Godzilla 1974 Figural Vinyl Bank – A Diamond Select Toys release! Watch out, MechaGodzilla! The newest full-figure bank in DST's line of 12-inch vinyl kaiju is your old foe Godzilla, exactly as he appeared in 1974's Godzilla vs. Mechagodzilla! And you know what happened in that movie! This 12-inch rendition of the King of All Monsters in his full 1970s glory features a coin slot on his back and a removable tail that reveals an updated and improved access door. Measuring 18 inches long from nose to tail, he is the perfect addition to any Godzilla collection! Sculpted by Gentle Giant. Packaged in a clear polybag. (Item #MAR152065, SRP: $34.99)</br> http://www.diamondselecttoys.com/godzilla-classic-1974-vinyl-figure-bank
Gotham TV Select Action Figures Series 1 Asst. – A Diamond Select Toys release! One of the hottest shows on TV is Gotham, a look at the crime-ridden streets of Batman's hometown. Now, the hit show is an all-new line of Select action figures! Each 7-inch scale figure comes with character-specific accessories, as well as a deluxe diorama base representing a location in Gotham City: The Penguin comes with a pier, Jim Gordon comes with an alleyway, and Selina Kyle comes with a fire escape – connect Jim and Selina's bases to form a larger scene! Each figure features approximately 16 points of articulation and comes packaged in the famous display-ready Select packaging, with spine art for easy shelf reference. Sculpted by Gentle Giant!
Jim Gordon Action Figure (Item # MAR158179, SRP: $24.99)
http://www.diamondselecttoys.com/gotham-tv-jim-gordon-select-action-figure
Oswald Cobblepot Action Figure (Item # MAR158180, SRP: $24.99)
http://www.diamondselecttoys.com/gotham-tv-oswald-cobblepot-select-action-figure
Selina Kyle Action Figure (Item # MAR158181, SRP: $24.99)
http://www.diamondselecttoys.com/gotham-tv-selina-kyle-select-action-figure
Marvel Minimates Villain Zombies vs. Age of Ultron Secret Wars Box Set – A Secret Wars tie-in! Every year, DST unleashes a horde of Marvel's Villain Zombies on the world, in the form of a new four-pack of Marvel Minimates! This year, with worlds colliding over in Secret Wars, even our zombie box set is not immune to the effects! Villain Zombie versions of Pyro, Bullseye and the Vulture have been invaded by an Ultron Drone from the Age of Ultron. No matter who wins, we lose! Each 2-inch Minimates mini-figure features 14 points of articulation as well as interchangeable parts and accessories. Packaged in a full-color window box. Designed by Art Asylum! (Item #JUL152208, SRP: $19.99) http://www.diamondselecttoys.com/marvel-minimates-villain-zombies-vs-age-of-ultron-secret-wars-box-set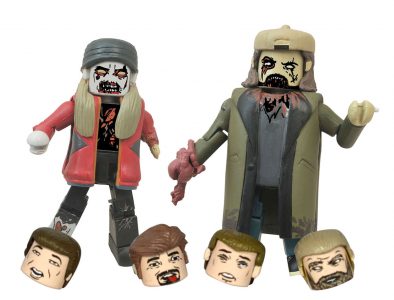 Jay and Silent Bob Minimates Zombie 2-Pack – A Diamond Select Toys release! Jay and Silent Bob will never die! Literally! This all-new 2-pack of Minimates mini-figures features undead versions of America's favorite comedy team, as seen in the movies, comics and cartoons of writer/director Kevin Smith. This set includes zombie-specific accessories, including a hunk of meat and the severed heads of four familiar victims. Each 2-inch Minimates mini-figure features 14 points of articulation and fully interchangeable (and removable) parts. Packaged on a full-color blister card. Designed by Art Asylum! (Item #MAY152176, SRP: $9.99) http://www.diamondselecttoys.com/jay-and-silent-bob-minimates-zombie-2-pack
Pulp Fiction 20th Ann. Minimates Bring Out the Gimp Box Set – A Diamond Select Toys release! Bring out the gimp!! No more wondering if the gimp is sleeping – the famous Pawn Shop scene from Pulp Fiction has finally been made into Minimates form! The fourth box set based on Quentin Tarantino's iconic 1994 film captures the main players in the famous dungeon sequence: Butch, Marsellus Wallace, Zed and the Gimp! Each 2-inch Minimates mini-figure features 14 points of articulation as well as interchangeable parts and accessories. Packaged on a full-color blister card. Designed by Art Asylum!  (Item #MAY152174, SRP: $19.99) http://www.diamondselecttoys.com/pulp-fiction-20th-ann-minimates-bring-out-the-gimp-box-set
Universal Monsters Legacy Series 4 B&W Action Figures Box Set – A Diamond Select Toys Release! The Universal Monsters are back, with an all-new Legacy Series Box Set! Capturing three recent Universal Monsters Select action figures in glorious black-andwhite, this set brings together Quasimodo (from The Hunchback of Notre Dame), a Mole Person (from the Mole People) and a transforming figure of Dr. Jekyll and Mr. Hyde (from Abbottt and Costello Meet Dr. Jekyll and Mr. Hyde). The figures look like they just stepped off of the silver screen! Each 7-inch scale figure features 16 points of articulation and a small diorama base. Sculpted by Jean St. Jean! (Item #MAR152066, SRP: $50.00)</br> http://www.diamondselecttoys.com/universal-monsters-legacy-series-4-bw-figure-set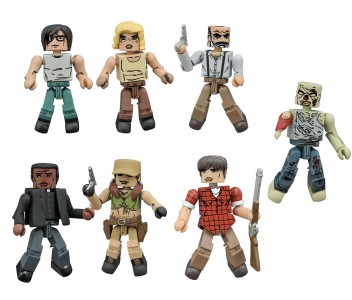 Walking Dead Minimates 2-Packs Series 8 Asst. – A Diamond Select Toys Release! With the hit comic series expanding in new, shocking directions, and a new TV series on the air, there's never been a better time to be a Walking Dead fan! This all-new assortment of comic-based Minimates mini-figures spans the time-jump, featuring "New Beginning"-era Carl with Sophia, "All-Out War"-era Rosita with Father Gabriel, Hilltop leader Gregory with a Forest Zombie, and a rare, one-per-case two-pack of new Hilltop leader Maggie Greene with a Forest Zombie! Each 2-inch Minimates mini-figure has 10-14 points of articulation and features fully interchangeable parts and accessories. Designed by Art Asylum! (Item #AUG152324, SRP: $9.99/ea.)
http://www.diamondselecttoys.com/walking-dead-minimates-2-packs-series-8-asst