The duo of Archer and Armstrong are back in action once again, after a brief respite from a monthly book in A&A #1.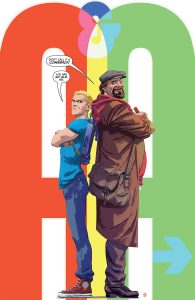 Headed up by he very talented creative team of Rafer Roberts and David Lafuente Archer and Armstrong are finally back starting next Spring. It's been a while since the pair were featured in their own 'solo' book, even though both characters have been appearing here and there in other Valiant tales- some of which have been big time stories.
As usual too, this A&A run kicks off with -what else?- drinks. Well, a drink in a satchel actually, as Armstrong and his little buddy set upon a quest to recover one of history's finest whiskey's. And that booze just happens to be lost in… Armstrong's bottomless satchel. Oh, and there's also a mad god (Bacchus!) and plenty of bad guys to battle. It makes sense, trust me… sort of. Just read the pr statement and you'll see.
"Archer & Armstrong are two of the most beloved characters not just in the Valiant library, but in all of comics period. But instead of being intimidated by the brilliant creators that preceded them – Barry Windsor-Smith, Jim Shooter, Bob Layton, Fred Van Lente, Clayton Henry, and Pere Perez, just to name a few – Rafer Roberts and David Lafuente are bringing a vital new energy to A&A that is unlike anything you've seen before," said Valiant CEO & Chief Creative Officer Dinesh Shamdasani. "This series is frantically action packed, hilarious yet heartbreaking, and absolutely gorgeous to look at, all at the same time. Rafer and David truly are a Valiant dream team and we can't wait to share what they have in store."

"Since he first made his Valiant debut with a short story in X-O MANOWAR #25, we've been huge fans of Rafer Roberts and, with A&A, he's tapped into a brilliant high concept that is quintessentially Archer & Armstrong. Make no mistake: Rafer will be a major up-and-coming creator to watch in 2016," said Valiant Editor-in-Chief Warren Simons. "Joining him is the always incredible David Lafuente – one of the most gifted artists in the industry and a phenomenal collaborator to launch A&A in a big, big way. Having David join Valiant exclusively is incredibly exciting and his work on A&A might just be his best to date."

Meet Armstrong: Since the ancient city of Ur, this immortal adventurer has spent the last 7,000 years drinking and carousing his way through history alongside some of the greatest merrymakers the world has ever known.

Meet Archer: A sheltered teenage martial arts master and expert marksman that was raised for a single purpose – to kill the devil incarnate. Little did he know that this undying evil was actually Armstrong (he's actually a pretty good guy…once you get to know him) and, since hitting the road together, the two have become great friends and even better partners.

Now: Archer is about to set off on his most dangerous mission yet – a quest into the mystic reaches of Armstrong's bottomless satchel to liberate his friend and comrade from the clutches of the mad god Bacchus! (Okay, so, Armstrong went into the satchel himself to get a bottle of whiskey that he kinda misplaced and got stuck. It's like the Amazon warehouse of arcane treasures in there…and he doesn't exactly have a maid service.)

Imprisoned in Armstrong's satchel for centuries, Bacchus now commands a legion of monsters, goblins and golems bent on escaping back into the world of man and enacting revenge on their captor… Can Archer single-handedly combat the godly embodiment of intoxication himself – and rescue his best buddy – without becoming lost amongst Armstrong's endless repository of bizarre artifacts and historical oddities in the process?

Take two aspirin and call us in the morning…because the all-new Archer & Armstrong's first adventure is going to give the rest of the Valiant Universe a splitting hangover headache when their debut story arc, "IN THE BAG", kicks off with a bang in A&A #1 – coming in March from all-star creators Rafer Roberts and David Lafuente!
Yeah that sounds like Archer and Armstrong all right. Nice to see 'em back in their own book where all this kind of insanity seems almost normal. The action starts up in A&A #1, on the stands and in digital storefronts this coming March.