The Force was strong with he Battlefront beta, to the tune of 9 million gamers.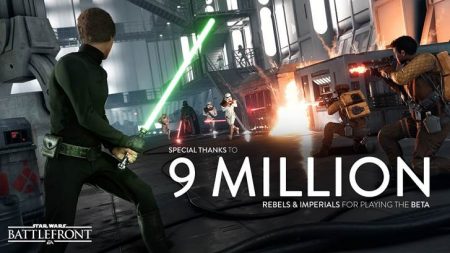 Freshly wrapped (as of 11am eastern today), I think that it's safe to say that the Star Wars Battlefront Beta was a hit for EA and developer DICE. While the game won't be out for a little while yet, some 9 million gamers played the Beta and got a taste of what's to come.
The sampling included a few modes, levels, and hero characters like Luke Skywalker and Darth Vader, who basically ran rampant across the battlefield. It also presented some of the best translated Star Wars action into the video game realm in years.
Star Wars Battlefront releases for consoles and the PC on November 17th in the US and on the 19th in Europe. Here's what DICE had to say to the fans about the test:
"Impressive. Most Impressive." Yesterday, the Star WarsTM BattlefrontTM beta surpassed a major milestone: more than nine million players logged in and played. That makes this the single largest beta in the history of EA. We could not be happier that so many of you wanted to come in to get a small taste of what our passionate team has been working on.

Ever since we revealed Star Wars Battlefront back in April, we knew the beta would be a huge test for our game. After all, the beta has been one of the most talked about topics around the game over the last six months, and it was exciting (and a little nerve racking if I'm being completely honest) to open it up to the world.

And like Han Solo at the end of A New Hope, we're glad you showed up. Even more importantly than just showing up, you've been spending a lot of time playing, having a great time and leaving us some invaluable feedback, as we continue to tune and balance the game until launch on November 17, 2015 in North America, and November 19, 2015 in Europe.

On behalf of the team at DICE, and everyone at EA, thank you for playing. We hope you enjoyed what you played in the beta, which is just a small part of the overall experience. There's a lot more to the game, including all of our multiplayer modes and mission types.

Thank you, and may the Force be with you, always.

Sigurlina Ingvarsdottir

Senior Producer, Star Wars Battlefront