Plenty to like as far as Dynamite Comics' presence at NYCC this week.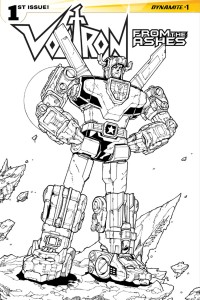 Grumpy Cat will be at the Dynamite booth on Thursday from 1:30pm to 3:00pm. I could probably just leave it at that and call it a day here, I know, but there's more. Artist Ken Haeser, the penciler of the Grumpy Cat comic will be there too, and he'll be taking requests on commission all day long on Saturday. There'll be more artists and guests on hand as well in booth #2129, though they're still under wraps for now, so make sure you follow Dynamite on social media for the complete rundown as they're all made official.
Quite official though, are the exclusive comics that the company will have ready for sale. Here's the complete checklist for this so you can get your cash sorted appropriately:
Alice Cooper vs. Chaos! #1 – Photo Edition (Cover F)
Aliens / Vampirella #1 – Javier García-Miranda "Vampirella Design Concepts" Edition (Cover H)
Bob's Burgers Ongoing #2 – Brittany McCarthy "Virgin Art" Edition (Cover D)
Bob's Burgers Ongoing #4 – Hans Ranum Edition (Cover E)
Grumpy Cat #1 – Ken Haeser, Buz Hasson, Blair Smith Edition (Cover L)
Red Sonja / Conan #1 – Ed Benes "Blood Red" Edition (Cover P)
Voltron: From the Ashes #1 – Alex Milne "Black & White" Edition (Cover B)
And finally, as for the panel presentation that'll be putting on, here's the skinny on that:
Dynamite Entertainment: The Next Ten Years
Thursday, October 8th, 11:00am – 12:00pm

Join the Dynamite gang and their star-studded line-up of creative talent for an hour of explosive power! Learn all the juicy details behind their thrilling new James Bond comic book series, written by superstar Warren Ellis. Discover what Dynamite has in store for Frankenstein, Grumpy Cat, Pathfinder, Vampirella, Doc Savage, and much more. The editors and creators at Dynamite will happily share their latest news and insider perspectives, plus answer all your burning questions! Featuring rising superstar writers Marguerite Bennett and Frank J. Barbiere, revealing for the first time ever their insight into Dynamite's top secret 2016 launches!
New York Comic Con begins tomorrow (Thursday the 8th of October) and runs through this coming Sunday.