EA's long running racing franchise makes a return.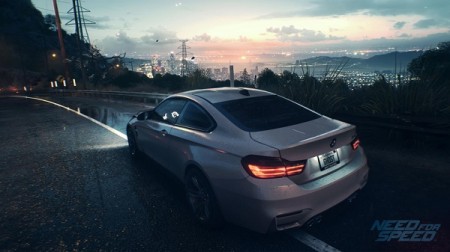 The Need for Speed series has been going for 21 years now, and from 1997 onwards, a new title for the series was developed every year.  However, for the first time since then, EA took a year out in 2014.  But now the series is back in what is being badged as a 'reboot' for the series, and we got a chance to see if Ghost have made a game that's more than just a pretty face.
So the first thing that struck me about Need For Speed is how good it looks.  To start the demo, there was a couple of minutes to customise your car, with a variety of body modifications, stickers, paint jobs and tuning options.  Once the time was up, it was off to the streets to race.  The gameplay mode on offer was a reputation based game.  It started with everyone in a street race, and once the race finished, everyone was free to do what they wanted.
The object of the game was to get the highest reputation possible, and this is done by participating in various challenges, be it time trials, checkpoint races and what have you.  In order to win, you needed to be efficient, and the Autolog system lets you know who your nearest challenger is.
The cars handled pretty well, and dodging in and out of traffic and police while trying to avoid getting your times wrecked by your opponents was great fun.  The city was bustling as you might expect, and you could repeat a challenge and never have the exact same experience twice.  The cars also sound satisfying, and the soundtrack really does fit well.  All in all, Ghost seem to have got the urban racing theme down really well.
Need for Speed was a lot of fun to play, and it certainly looks like the multiplayer is going to be great.  Whether the single player is interesting, we'll have to wait and see.
Need for Speed is out on November 3rd in North America and November 5th in the EU for PS4 and Xbox One, and in Q1 2016 for PC.