Ready for some more con exclusives from Icon Heroes? NYCC 2015 is almost upon us, and Icon Heroes  has some brand new exclusive items en route for what's pretty quickly become one of the biggest Cons in the world.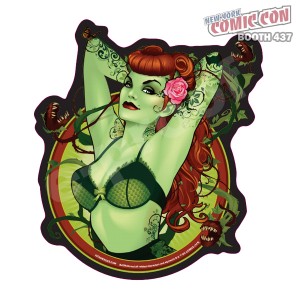 Keeping with a DC Comics theme, IH has a pretty awesome-looking duo ready for sale at the show.
The Barry Allen 'unmasked' Flash paperweight (which could pretty easily be a statue if you prefer) is sculpted with the likeness and 1st season costume of TV's latest Flash – actor Grant Gustin. As for the Poison Ivy mouse pad, the image branded on the front showcases Ivy in burlesque 'Bombshells' styling.
Both exclusive items will be sold on the show floor at the Javits convemtion center in NYC once the show opens in the few weeks, and you can find them at booth #437, which is the Action Figure Xpress installation.
Here are the particulars:
The Flash TV Barry Allen Statue Paperweight  $50 – Central City's Scarlet Speedster dashes from his beloved metropolis to your desk in this incredible new paperweight! Highly detailed and expertly painted, this special unmasked version of the Flash features an amazing likeness of series star Grant Gustin! Made of high quality polystone resin and standing an impressive 7″ tall, this paperweight is going to go fast, so order today!
DC Comics Bombshells Poison Ivy Mouse Pad  $13 – Bring a little slice of nature into your dreary office with this Poison Ivy mousepad! Part of DC Entertainment's "Bombshells" series, super-criminal Pamela Isley wears a burlesque inspired design that is sure to raise the humidity in the office to rainforest-like levels! Measures 8.5″ x 9.5″.