If you're looking to pick up a few Skylanders with your purchase of SuperChargers this Sunday, then you want to head over to Toys R Us. Actually, if you want to pick up any toys-to-life figures, that's where you want to be.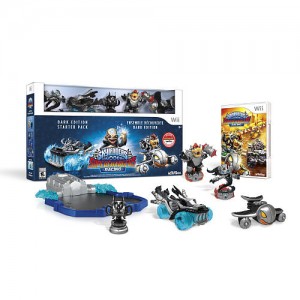 First of all, TRU is holding another midnight opening for the game, which officially hits at 12:01am on Sunday morning (9/20/15). It's their second in just a few weeks as the Star Wars: The Force Awakens toys brought in the first. I love me some midnight openings, so that's a trend I'd like to see continue.
140 stores in all will be open for the launch of Activision's latest Skylanders adventure, and the stores that aren't in on the promo will open first thing Sunday morning (when the sun rises) at 8am. So either way, you're going to get the game earlier than anyone else if you buy from TRU. You'll also get your money's wirth wench it comes to figures, thanks to a buy one get on 40% off sale that's hitting on the same day.

Any and all toys-to-life figures are included in this deal, which means that you can imx and match to your heart's content- Skylanders, Disney Infinity, and Amiibo (if you can find any). That's a very solid deal, and should make for a few more in-depth Sunday play sessions in SuperChargers.
Also notable, is that the Skylanders SuperChargers Dark Edition for the Wii U and the Legendary Hurricane Jet Vac figure, both of which are exclusive to Toys R Us, will be in stock for the day. Get 'em while you can.