Year Walk for the Wii U looks very strange in deed (in a good way) and joins Skylanders SuperChargers and the Shovel Knight DLC for a pretty nice week.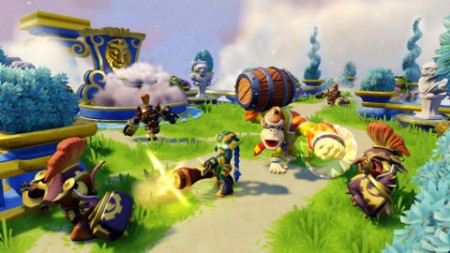 All in all, this is a decent week on the Nintendo Download, especially since Super Mario Maker just debited last week. Though that's the season that we're plunging into, where there's a new big game (or five) hitting just about every week.
This week's blockbuster is Skylanders SuperChargers, which is the latest in the uber-popular toys-to-life series from Activision. This year's edition features vehicles and an all-new wave of characters of course. And actually, for Nintendo fans it's extra cool as Bowser and Donkey Kong are joining the game's roster as playable characters/Skylander figures. Very cool. Note that this is the Portal Owners Pack though, and includes neither figures nor a Portal of Power. This one's for those that don't want any new toys at the moment and already own a Portal from the last game.
If though, you're on the lookout for something a little… darker, then there's Year Walk. I'm not even sure what's happening in the trailer for Year Walk, or what the game is about, but it's definitely this side of disturbing.
As usual too, there's a bit more than just the big releases, and some sale items and special events too. So scroll on down for the full listing.
Year Walk – Lose yourself in an ancient rite that bleeds from the TV screen into our world through the Wii U GamePad controller. Use the second screen in your hands to study a mysterious folklore encyclopedia, decipher hints and take notes. Solve tactile puzzles using motion controls, and listen for clues through the GamePad. Click here to watch the latest trailer.

Skylanders SuperChargers Portal Owner's Pack – Kick your adventure into overdrive! The Skylanders SuperChargers Portal Owner's Pack includes the full video game, works with any Portal of Power from the Skylandersseries and includes digital versions of the Instant Spitfire and Instant Hot Streak. Expand your game-play experience with more than 40 Skylanders and vehicles to collect, and embark on epic adventures over land, under sea and through the sky. Skylanders Superchargers will be available in the Nintendo eShop on Wii U on Sept. 20. Click here to watch a trailer. (Note: A Portal of Power is required to play, sold separately.) Click here to watch a trailer for this game.

Nintendo eShop on Wii U and Nintendo 3DS

Shovel Knight: Plague of Shadows – Download this free DLC for hit game Shovel Knight on Wii U or Nintendo 3DS and embark on a new adventure starring Plague Knight, the addled alchemical master of disaster! Featuring a new playable character, new relics, new systems, new boss battles, level tweaks and a new story to adventure through, Shovel Knight: Plague of Shadows is available to download for free to everyone who owns the Shovel Knight game. Click here to watch a trailer.

Virtual Console on Wii U

Car Battler Joe – In this Game Boy Advance racing game, play as Joe Todoroki to become a car battler, just like his father before him. Customize a vehicle in the Garage to enhance or diminish its performance. Sign up for jobs, missions and even tournaments as Joe explores the dangerous highways and byways that surround his village.
Nintendo eShop Sales:
Nintendo eShop on Wii U and Nintendo 3DS

Another World – 20th Anniversary Edition (Wii U and Nintendo 3DS) is on sale until 8:59 a.m. PT on Sept. 24.
The Swapper (Wii U), OlliOlli (Wii U and Nintendo 3DS) and more games from Curve Digital are on sale until 8:59 a.m. PT on Oct. 1.

Nintendo eShop on Wii U
Nintendo eShop on Nintendo 3DS
Activities:
Code Name: S.T.E.A.M. "Red Badge" Tournament – See how your squad stacks up online in Nintendo's Public Tournaments. Top players earn unique titles that are visible online and earn major bragging rights with your friends and around the world. The new "Red Badge" tournament runs through Sept. 20. Opt in via the SpotPass feature on your Nintendo 3DS system for notifications about future tournaments. Good luck, agents!
Theme Shop on Nintendo 3DS:
New themes this week include:

Pokémon: Dancing Pikachu
Pokémon: Pikachu's Cry
Pikachu Bundle: Dancing & Cry
Pokémon 151: Mewtwo
Price reduction:
Also new this week:
In addition to video games available at retail stores, Nintendo also offers a variety of content that people can download directly to their systems. Nintendo adds new games weekly to the Nintendo eShop on the Wii U console and the Nintendo 3DS family of systems, the Nintendo DSi™ Shop for the Nintendo DSi system and the Wii™ Shop Channel for the Wii console.
The Nintendo eShop is a cash-based service that features a wide variety of content, including new and classic games, applications and demos. Users can add money to their account balances by using a credit card or purchasing a Nintendo eShop Card at a retail store and entering the code from the card. All funds from one card must be loaded in the Nintendo eShop on either Wii U or the Nintendo 3DS family of systems, but can be used in either Nintendo eShop if the systems are linked to a single Nintendo Network account.
The Wii Shop Channel offers games and applications and uses Wii Points™, which can be purchased via the Wii Shop Channel. The Nintendo DSi Shop offers games and applications and uses Nintendo DSi Points™, which can be purchased in the Nintendo DSi Shop.
Remember that Wii U, Wii, Nintendo 3DS, Nintendo 3DS XL, Nintendo 2DS and Nintendo DSi feature parental controls that let adults manage some of the content their children can access. For more information about this and other features, visit http://www.nintendo.com/wiiu or http://www.nintendo.com/3ds.