One of Arnold Schwarzenegger's cheesiest early films is also one of his most fun to watch, and the action figure commemorating Commando's 30th anniversary looks just as awesome.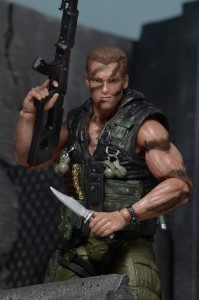 I can't believe it, but Commando is three decades old. Landing in theaters in 1985, I have to admit that the goofy action flick is one of my favorites to watch whenever I catch it on the old tube. One definite oddity though, is that the movie has never had an action figure that bore the likeness of Schwarzenegger's killer commando on the hunt for his kidnapped daughter.
That changes now of course, as NECA has a pretty phenomenal figure of John Matrix (yes, that was his actual name in the movie) on the way. Standing in at 7″ tall and loaded up with the usual NECA detail and articulation (25 points), old Johnny here is also laden with plenty of hardware.
Much like the character in the movie, the figure is absolutely covered with weapons. Expect to see a Desert Eagle pistol, a M60E3 machine gun, a Valmet M78/83 machine gun, a monster of a rocket launcher, and a big bad knife. No, there's no steam pipe (watch the final battle in the flick) but I'll forgive that considering how fantastic everything else seems to be.
As to when you can expect this bad boy, John Matrix is available right now for pre-order from just about every major toy seller, and should arrive on the 30th of this month. Want to see more pics of him in action? Click here.