One of the best Mortall Kombat figures lines pretty much ever, Mezco's latest series of fighters will be getting the same variant treatment as the first wave.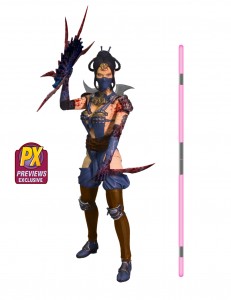 Revealed in the newest issue of Previews magalog, found in fine comic book stores everywhere, the newest set of variants for the Mortal Kombat X line of figures is looking like bloody good fun. Kitana, Kotal Kahn, and Quan Chi expand the roster of available toys, which already includes Scorpion, Sub Zero, and Raiden.
But while the basic series' of these guys and gals is already cool, the variant editions have been awesome- in particular the Previews variants. My favorite has been the semi-translucent Subby, though that might change with this new lineup.
Officially, the new variant series is composed of Mournful Kitana, Blood God Kotal Kahn, and Sorcerer Quan Chi. And the names aren't just there for the sake of being different, as each figure sports important detailing and accessories that mark the changes in physical ways.
Aside from the bloody deco, Kitana has Jade's staff to honor her now fallen friend. Kotal Khan is every bit the 'blood god' that his name connotes, as he's covered in red tattoos, and comes with a red blade and heart- straight from his 'Be Mine' fatality in the game. As for bad guy Quan Chi, he comes complete with semi-see through purple masks for his head and arms, as well as a skull and blade, which mimics his 'Mind Games' fatality.
All in all, that's kind of a can't miss wave for MK fanatics. You can pre-order the whole set right now, via page 504 in the Previews magalog, with each one running you $20.99 USD.