Yes it's that time of year once again, as TRU has taken the wraps off what it thinks will be the biggest toy releases for this coming Holiday Season.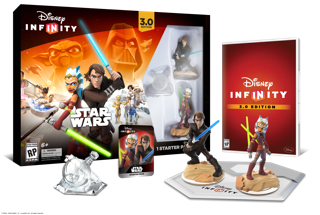 Not a ton of surprises on this one really. Disney Infinity 3.0 is there, as is the newest Guitar Hero title, and you better believe that LEGO Dimensions made the cut for the annual listing of all things toy and game.
"Determining our annual Hot Toy List is a year-long selection process we take very seriously. It is our mission to identify the very best playthings, giving parents and gift-givers the inside scoop straight from the toy experts on coveted items sure to leave kids smiling on Christmas morning," said Richard Barry, Executive Vice President, Global Chief Merchandising Officer, Toys"R"Us, Inc. "We are proud that customers rely on the Toys"R"Us Holiday Hot Toy List as a trusted and valuable resource to help navigate the holiday shopping season even before kids start writing their wish lists."
Sorting through the myriad lists of items that hit a store as big as Toys R Us is more than likely no mean feat, but the company does this on a yearly basis, so they should kind of be used to it. There's actually two lists too, if you want to figure it that way, with the overall 36 item list and then the 'Fabulous 15' that caps it off.
That'd be the absolute can't miss, best of the best, as far as the list-makers at TRU see it. And those magical items are:
Bright Beats Dance & Move BeatBo from Fisher-Price®
Doc McStuffins Take Care of Me Lambie from Just Play™
Imaginext® Ultra T-Rex from Fisher-Price®
PAW Patrol PAW Patroller™ from Spin Master™
Barbie® Saddle 'N Ride Horse from Mattel®
Little Live Pets Clever Keet from Moose Toys™
Journey Girls® 2015 Italy Holiday Doll from Toys"R"Us®
LEGO® Dimensions Starter Pack from Warner Brothers® Shopkins™ Fashion Boutique Playset from Moose Toys™
Smart Toy Bear from Fisher-Price®
Star Wars™ BladeBuilders Jedi Master Lightsaber from Hasbro®
NERF® N-Strike Modulus ECS-10 Blaster from Hasbro®
Star Wars™ R2-D2™ Interactive Robotic Droid from Thinkway Toys
Guitar Hero® Live from Activision®
Meccanoid G15 from Spin Master™
A solid list, but one with a pretty big surprise. Namely, that TRU favorite Skylanders Superchargers isn't present. It's not that it's not listed at all, as it's in the expanded list covering all 36 picks (that you'll find below). Just kind of strange not seeing the game hit the top set.
As I mentioned though, you will find it below, along with the full listing of everything that TRU has picked for the season, which is even broken down by age range. The toy juggernaut also promises that it'll be working hard to keep everything in stock, complete with daily shipments to keep the shelves loaded. And if you're worried about pricing, don't be. TRU offers a price-match guarantee that should make getting the best values on what you're buying easy as pie.
So here we go, scroll on down for the full list of what TRU has chosen, then go a little further to see some images of this stuff in action. And don't forget that, while you're shopping around, you can tag your favorite things with the #TRUHotToyList hashtag, and keep up with the company on their Facebook and Twitter (@ToysRUs) pages.
On TRU's social media pages you can also "get the latest information on popular items, see some of the most anticipated playthings, find savings on hot toys or ask the company's toy experts for advice in selecting the best presents to put under the tree".
BABY'S FIRST CHRISTMAS

Bright Beats Smart Touch Play Space from Fisher-Price®

This interactive, touch-sensitive light-up and musical play space is perfect for babies' natural stages of progression: sitting, crawling and cruising. It comes equipped with innovative Smart Touch Technology that responds to baby's touch. With three different modes, including piano, dance and learning, little ones will be encouraged to keep the fun lasting all day long. 4 "C" batteries required (not included). Ages 6 to 36 months.

Lil' Ocean Explorers™ 3-in-1 Adventure Course™ from Little Tikes®

This adventure course stimulates and entertains tiny tots throughout three key developmental milestones. When sitting, babies can work on building tactile skills with features like the submarine peek-a-boo door, the marine wall and ball drop periscope. When crawling, little ones can explore the course, discovering new ways to play. Finally, when standing, they will hear sounds and phrases from their new octopus friend and will be encouraged to play ball. 2 "AA" batteries required (not included). Ages 6 months to 3 years.

13 MONTHS TO 2 YEARS

Bright Beats Dance & Move BeatBo from Fisher-Price®

BeatBo is the perfect interactive pal to get baby moving, dancing and singing with its amazing multicolor LED tummy and touch-points that elicit various ways to play. With three modes, this engaging character will keep little ones growing and developing, as they wiggle and sing, as well as learn about colors and their ABCs. 4 "AA" batteries required (included). Ages 9 months and up.

Go! Go! Smart Wheels® Ultimate RC Speedway™ from VTech®
Ready, Set…Go! Go! Watch the littlest speed racer zip through a colorful course, packed with four action zones and nine SmartPoint® locations. Kids can take the wheel during playtime by building the ultimate speedway using the 13.5 feet of interchangeable tracks, a stunt ramp, elevator, movable gears, starting flags and track switches that are all triggered by the RC race car. Then, they can use the steering wheel-shaped remote control and watch as the RC car zooms around, entertaining them with a light-up driver button that activates playful music and fun sounds. 4 "AAA" batteries required (not included). Ages 1 year and up.

 

2 TO 4 YEARS

Calico Critters™ Seaside Cruiser Houseboat from International Playthings, LLC

Calico Critters fans can set sail for an exciting seaside adventure with this Seaside Cruiser Houseboat. Featuring more than 50 pieces, including a boat, critters, waterslides, private island, food, drinks and more, the boat expands to 20 inches for even more space to play and bring the ocean adventures to life. No batteries required. Ages 3 years and up.

DINOTRUX Mega Chompin'™ Ty Rux from Mattel®

Have a ferociously fun time with the half-dinosaur, half-construction vehicle character fromDinotrux, DreamWorks' brand-new animated children's series on Netflix. This Toys"R"Us exclusive features lights, sounds and movements unique to his roar-tastic personality. 3 "AA" batteries required (included). Ages 3 to 5 years.

Doc McStuffins Take Care of Me Lambie from Just Play™

Ah choooo! Looks like Doc McStuffin's best pal Lambie is sick and needs help to feel "so much better." This snuggly sweet, interactive plush talks and sings, sharing with little aspiring doctors how she's feeling with more than 50 phrases activated through her wrist, belly and heart. Like any little one under the weather, Lambie's face, eyes and mouth feature realistic movements that are telltale signs she's not feeling well.  Kids can help "take the ouches away" by making sure to give Lambie a thorough check-up using the included stethoscope, thermometer, otoscope and sticker bandages. 4 "C" batteries required (included). Ages 3 years and up.

FurReal Friends StarLily, My Magical Unicorn from Hasbro®

Ordinary friendship turns extraordinary with StarLily, My Magical Unicorn pet, the first interactive toy unicorn in the FurReal Friends line. Featuring 100-plus sound and motion combinations, the more little ones play with StarLily, the more she responds, even moving her head and opening and closing her eyes. The sensors around her face and on her horn allow this unique unicorn to respond to children's loving touches, and her long silky hair can be styled, braided and combed in many ways for fun-filled grooming play. When kids feed StarLily her special sugarberry treat, this adorable pet opens and closes her mouth and makes happy eating sounds. To communicate how she's feeling, StarLily will flutter her wings and her light-up horn will change colors. Additionally, little animal lovers can pose her to stand or lie down. Children can become even closer friends with StarLily, win collectibles and make her forest world even more magical with the free StarLily, My Magical Unicorn app (download required). 4 "C" batteries required (not included). Ages 4 years and up.

 

Tumble Train from Little Tikes®

Get ready to roll in a crazy train adventure. Kids can press the button on the smoke stack to start the Tumble Train and watch as the track will tumble around, inspiring kids to chase after it. The train will randomly reverse at times, causing the track to roll in unpredictable directions that will capture every kid's attention and imagination. 4 "AA" batteries required (not included). Ages 3 years and up.

 

Imaginext® Ultra T-Rex from Fisher-Price®

Little dino lovers' imaginations will get a gigantic boost from this 3-feet tall T-Rex with its realistic sound effects and LED lights, prepared to conquer prehistoric land with the help of young adventurers. Fully equipped with mini figures, boulders and projectiles, this ferocious playset is able to transform from a hunched position, ready to attack its prey, and ultimately extend to full height. 4 "AA" batteries required (not included). Ages 3 years and up.

Little Live Pets Lil' Mouse Deluxe Play Trail from Moose Toys™

These tiny, Toys"R"Us exclusive electronic mice are sure to scurry into kids' hearts, each featuring their own unique pattern and vibrant colors as well as life-like features. Using the touch sensor on their backs, kids can control the mice and make them their personal pets. 3-Button Cell AG13 batteries required (included). Ages 5 years and up.

PAW Patrol PAW Patroller from Spin Master™

Kids and their favorite preschool pups will be rescue-ready to save the day and travel to different destinations with the help of the PAW Patroller. This mobile headquarters can display up to six vehicles and hold five action-packed pups, including Ryder and his ATV. Plus, for even more puppy pal fun, the PAW Patroller opens up into a command center playset featuring playful sounds. 3-Button Cell LR44 batteries required (included). Ages 3 years and up.

 

5 TO 7 YEARS

 

Teenage Mutant Ninja Turtles Giant Leonardo Playset from Playmates Toys®

Little turtle fans will be saying "Booyakasha" with this 24-inch articulated Leonardo Ninja Turtle action figure that transforms into a complete Sewer Lair Playset. With nine different rooms, multiple levels and over 30 fun features, including spring-activated surprises, false floors and so much more, kids will be treated to hours of true turtle power and ninja fun. No batteries required. Ages 4 to 7 years.

Pie Face Game from Hasbro®

The Pie Face game is a simple-to-play game that brings friends and family together for laugh out loud moments. Players load the arm with whipped cream (not included) or the included sponge and take turns sliding their head through the mask and spinning the spinner. Turn the handle the number of times indicated on the spinner and the tension on the arm will build – suddenly someone will be surprised with a face full of whipped cream! Pie Face game includes the throwing arm, chin rest, splash guard mask, spinner and sponge. No batteries required. Ages 5 years and up.

 

Barbie® Saddle 'N Ride Horse from Mattel®

Aspiring equestrians can ride off into a fabulous adventure with Barbie® and her horse, Tawny™. Just like a real equestrian, Barbie can jump onto Tawny's saddle and begin to trot off into the sunset, while looking stylish in her horse-riding outfit, complete with helmet and boots. 4 "AAA" batteries required (not included). Ages 3 years and up.

 

Bratz Hello My Name Is™ 5-Pack from MGA Entertainment

Get the four original Bratz girls (Cloe, Yasmin, Jade and Sasha) along with Meygan in one package! Exclusive to Toys"R"Us, the Bratz Hello My Name Is™ 5-Pack reintroduces the core Bratz friends, each with an iconic outfit that showcases their individual personalities and accessories true to their interests and hobbies. Celebrating diversity, self-expression and friendship, these dolls will be your kid's "Best Friend for Life" this holiday season! No batteries required. Ages 5 to 12 years.

Little Live Pets Clever Keet from Moose Toys™
The smart and funny Clever Keet will interact with kids and create his own sentences based on what they teach him – as well as repeat what little ones say. Incredibly athletic, this adorable parakeet can swing himself on his perch in the cage, dance when he's in front of his mirror and even propel himself forward on his cart. He can also tell kids when he's hungry and will remember the name given to him. Plus, parents will love this clever pet, who offers all the fun without the mess. 2 "AAA" batteries required (not included). Ages 5 years and up.

Disney Infinity 3.0 Edition Starter Pack from Disney Interactive

The Force is strong with gamers looking to experience the next iteration of Disney Infinity. The all-new Disney Infinity 3.0 Edition introduces Star Wars™ to the best-selling "hybrid toy/video game" of 2014 — the only game where players can experience characters from Disney, Disney•Pixar, Marvel and now Star Wars, and play with them together. The Disney Infinity 3.0 Edition Starter Pack includes the Star Wars™ Twilight of the Republic Play Set, where fans can take beloved characters, Jedi Knight Anakin Skywalker and his trusty Padawan Ahsoka Tano, on an intergalactic adventure to uncover secret plots, defeat villains and bring peace back to the galaxy. Featuring an original story set in the Episodes I-III timeline, players will travel through four iconic locations, use the Force™ and Lightsabers™ in epic battles and master their combat skills. Fans also can play with their entire collection of interactive figures and Power Discs from Disney Infinity, which is compatible with the game's Toy Box mode. No batteries required. Ages 6 years and up. This game is rated E10+ by the ESRB. This item will be available on Nintendo Wii U™, Xbox 360™ and Xbox One™ video game and entertainment system from Microsoft, PlayStation®3 and PlayStation®4computer entertainment system and PC and iOS tablets and smart phones.

Girl Scouts® Cookie Oven from Wicked Cool Toys

The Girl Scouts® Cookie Oven brings the fun and excitement of Girl Scout Cookie™ season to playtime! For the first time ever, young bakers can enjoy the hands-on fun of baking cookies inspired by their favorite Girl Scout Cookie™ flavors! This real working oven comes complete with tools and mixes that allow young bakers to make cookies that look and taste just like the real thing. Kids can bake up to six small cookies at a time with fan-favorite flavors. There's also a viewing window that lets bakers see the treats they're making and a warming station to heat and melt delicious coatings and frostings. The Girl Scouts® Cookie Oven comes complete with baking pan, spatula, measuring tool and a Thin Mints® starter mix. The best part? No order form necessary! No batteries required. Ages 8 and up. Adult supervision required.

CAUTION – ELECTRIC TOY: This toy has a heating element which can result in burns. Not recommended for children under 8 years of age. As with all electric products, precautions should be observed during handling and use to prevent electric shock.

Journey Girls® 2015 Italy Holiday Doll from Toys"R"Us®

Joining the line of award-winning, Toys"R"Us exclusive 18-inch Journey Girls® dolls for a limited time, Giovanna is dazzling in a striking deep red gown, perfect for the 2015 holiday season in Italy. Fun for any child or collector, the doll comes adorned in a full-length formal dress that features asymmetrical tiers and lush chiffon ruching. Accessorized with a metallic mask, gray faux fur stole, sparkly silver formal gloves, beautiful diamond and pearl earrings, as well as diamond bracelet, Giovanna is sure to make the holidays molto felice. No batteries required. Ages 6 years and up.

LEGO® Dimensions Starter Pack from Warner Brothers®

When a mysterious and powerful vortex suddenly appears in various LEGO® worlds, different characters from DC Comics™, The Lord of the Rings™ and The LEGO®Movie are swept away. To save their friends, Batman™, Gandalf™ and Wyldstyle™ bravely jump into the vortex and quickly find themselves fighting to save all of LEGO humanity. Let creativity be the guide to a building and gaming adventure, and journey through unexpected worlds to team-up with unlikely allies. Kids can play with different minifigures from different worlds together in one LEGO videogame, and use each other's vehicles and gadgets in a way never before possible. Get ready to break the rules, because the only rule with LEGO Dimensions is that there are no rules. No batteries required. Ages 6 years and up.

Marvel Avengers XPV Remote Control Hulk Smash from JAKKS Pacific, Inc.

Kids can feel the ultimate Hulk power in the palm of their hands with the RC Hulk Smash. The RC Hulk Smash lets you control the Hulk's vehicle with smashes, flips, spins and wheelies! With 10 Hulk phrases and sounds, and Hulk's awesome power, he can flip over against walls and do high speed spins. Obstacles don't stand a chance against Hulk's swinging arms, which adjust to eight different positions for a variety of smashing actions. Tipping over won't stop Hulk – he'll smash his way back into driving position. 8 "AA" batteries required (6 "AA" batteries included). Ages 4 years and up.

Playmation Marvel Avengers Starter Pack from Hasbro®

Kids can enter the world of Marvel's Avengers with the Playmation Marvel Avengers Starter Pack. To begin, Marvel Universe fans simply strap the Repulsor Gear onto their arm and listen closely to Jarvis as he instructs how to control the Gear. The Repulsor features motion-sensing technology, three modes of attack and a sync button to collaborate or compete with other recruits. Power Activators bring characters into play, feature lights and sound and can be used as a blaster for multi-player battling. The Playmation Marvel Avengers Starter Pack features four locations and 25 missions that are playable out of the box, with additional locations and missions available through the free-to-download AvengersNet app, and includes Repulsor Gear, two Power Activators, Captain America Smart Figure and Iron Skull Smart Figure. 12 "AA" batteries required (not included). Ages 6 years and up.

 

Project Mc2™ Doll with Experiment from MGA Entertainment

This new fashion doll line proves smart is the new cool! Inspired by real girls with smart, savvy skills, McKeyla McAlister, Adrienne Attoms, Bryden Bandweth and Camryn Coyle are prepared to put on their stylish thinking caps and take on anything! Featured on the popular Netflix series, these four brilliant pals are secret agents who use science and technology to catch bad guys. Each doll is dressed in a chic outfit that reflects her personality and individual style and includes a science experiment for young researchers to safely try at home. No batteries required. Ages 6 years and up.

Qixels Glow-in-the-Dark Quick Fuse N Dry Combo Pack from Moose Toys™

Young crafters can build their design one Qixel at a time and watch their creation glow. With the Qixels Glow in the Dark Quick Fuser, kids build their design on the fuse tray, blast it with water and then fuse it together with the Fuse Spinner. This Toys"R"Us exclusive contains 1,000 cubes, so kids can create their own huge pixel world full of monsters, warriors, ninjas and skeletons – all with the added glow in the dark effect. No batteries required. Ages 4 years and up.

Shopkins™ Fashion Boutique Playset from Moose Toys™

Kids will love the newest addition to the pint-sized world of Shopkins™, with its all-new fashion segment. The Toys"R"Us exclusive Fashion Boutique is a two-story playset that comes equipped with adorable characters and dozens of accessories including purses, hats and much more! Little ones will love these fashion-themed collectibles and will be clamoring to add them all to their collections. No batteries required. Ages 5 years and up.

Skylanders® SuperChargers Starter Pack from Activision Publishing, Inc.

Skylanders® is taking its signature characters to pilot land, sea or sky-based vehicles with Skylanders® SuperChargers, the latest extension of the award-winning, top-selling franchise. Not only are the vehicles playable in the game, but many also feature moving parts, making them fun to play with outside of the game. Players have the ability to customize all vehicles in-game with super cool modifications and upgradeable weapons. For the ultimate gameplay experience, players can pair a SuperCharger Skylander with its signature vehicle to create a SuperCharged combination, unlocking an exclusive mod that revs up the performance of both the vehicle and character. No batteries required. Ages 6 to 10 years. Rated E-10+ by the ESRB. This item will be available beginning Sunday, September 20  on Xbox 360™ and  Xbox One™ video game and entertainment systems from Microsoft, PlayStation® 3 and PlayStation® 4 computer entertainment systems, Nintendo's Wii U™ system, and a different, unique adventure will be made available on Nintendo's Wii™ system and the Nintendo 3DS™ hand-held system. Additionally, the complete Skylanders SuperChargers experience will be available on iPad®.

 

Smart Toy Bear from Fisher-Price®

Smart Toy is a unique approach to cloud-connected toys, which harness a child's already powerful imagination. Each Smart Bear includes a different base personality but has the ability to adapt to individual children making each one truly unique—just like them. They can understand unlimited words, visually recognize cards and books, as well as know a child's name and favorite things. Prepared to receive commands from parents as they control the interaction through an app on their smartphone, these cuddly characters are filled with more than fluff, as they store, assess and provide details updates on little one's progress. Rechargeable battery (included). Ages 3 to 8 years.

Star Wars™ BladeBuilders™ Jedi Master Lightsaber from Hasbro®

The definitive Lightsaber of the BladeBuilders system provides kids with the unique components needed to create 100+ combinations from their imagination. The Jedi Maser Lightsaber comes with a main Lightsaber featuring lights and sounds, two independently-lit light daggers, expansion hilt, two elbow connectors, dual connector and cross connector. 3 "AAA batteries" required (included). Ages 4 years and up.

8 TO 11 YEARS

 

LEGO® Friends Heartlake Airport from LEGO® Systems Inc.

Builders can jet off on an exciting vacation with Heartlake Airlines, available only at Toys"R"Us. The journey begins by helping Stephanie check in her luggage at the LEGO®Friends Airport and placing it on the turning carousel. Kids can then take Stephanie to the duty free store to buy souvenirs and go upstairs to the cafeteria while waiting for the flight to be called. Then, it's time to board the big plane by placing the rolling staircase at the airplane door. The pilot can then make final cockpit checks before takeoff, and once the plane is flying high, children can prepare freshly made coffees and snacks in the galley! Includes 692 pieces and three mini-doll figures. No batteries required. Ages 7 years and up.

 

Anki OVERDRIVE Starter Kit from Anki™
Battle-racing shifts into high gear! With groundbreaking state-of-the-art modular tracks, high-end car designs and supercars controlled by handheld mobile devices, OVERDRIVE is the game that lets players build and re-build their own battlefields for all-out vehicular mayhem. Players can create and race on their own customized courses within seconds, put their real-life robotic supercars against their friends or step up against enemy commanders in the game's campaign mode. The Starter Kit includes two highly detailed supercars, 10 separate track pieces, a four-car charger, two risers and a tire cleaning kit. The mobile app is free to download and available for both iOS and Android devices. No batteries required. Ages 8 years and up.

NERF® N-STRIKE MODULUS ECS-10 Blaster from Hasbro®

Giving fans both the versatility and performance they crave, the MODULUS ECS-10 Blaster features motorized blasting and can be configured more than 30 ways to make any NERF mission or shot possible. A precision scope, stock with integrated clip storage, dual-rail barrel, drop-down grip, 10-dart banana clip and six tactical rails enhance the blaster's accuracy and efficiency. Includes 10 N-Strike Elite darts. 4 "AA" batteries required (not included). Ages 8 years and up.

 

Star Wars™ R2-D2™ Interactive Robotic Droid from Thinkway Toys

Collectors and fans alike will love this Toys"R"Us exclusive, Star Wars™: The Force Awakens interactive, 16-inch R2-D2™ as he comes to life like never before via instant or pre-programmed commands with the help of an easy-to-use remote controller. Featuring realistic walking, spinning and head turning action in every direction, authentic movie sound effects and lights, everyone's favorite gutsy droid will follow any Rebel or Jedi command with the press of the controller. R2-D2 will even project his favorite princess, Leia, on the wall when prompted.                    8 "AA" batteries required (included). Ages 4 to 12 years.Available beginning in November.

 

BIG KIDS

 

Guitar Hero® Live from Activision®

The pop culture phenomenon that introduced a new way to interact with music through gaming, is back with the all-new Guitar Hero® Live, featuring breakthrough innovations that will re-ignite players' dreams of becoming a rock star. The game introduces two powerful ways to play, including a first-person point view, allowing the player to act as the star of the show on stage, where real crowds will react in real time to how well or poorly you play. Another being a 24-hour playable music video network, allowing fans to play along to official videos, including newest releases and favorite hits. 2 "AA" batteries required (included). Ages 10 years and up. This item will be available on Nintendo Wii U™, Xbox 360™ and Xbox One™, PlayStation®3 and PlayStation®4.

 

Meccanoid G15 from Spin Master™
This personal robot pal will inspire kids to get hands-on and think outside the box. Standing approximately 2-feet tall, and comprised of 550 parts, four servos and two motors, Meccanoid is an advanced, yet easy to use, open source Robotic Building platform, making it accessible to builders covering a broad range of ages and skill sets. Programming options include: "LIM" – Learned Intelligent Movement; "Ragdoll" Avatar control via a free app; and finally Motion Capture, where Meccanoid will mirror children's movements in real time. Meccanoid also uses its onboard "Mecca Brain" and voice recognition to say thousands of phrases, tell jokes, play games, initiate conversations and even remember little engineers names and birthdays. Rechargeable battery required (included). Ages 10 years and up.