With an awesome assortment of exclusive toys heading to NYCC next month, Mezco Toyz has detailed the pre-order plan for the full set.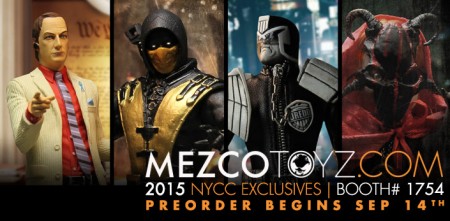 Absolutely running wild with awesome stuff lately, Mezco's list of exclusive items planned for debut at NYCC in October is not to be missed if you're a collector. It's not that Mezco offering con exclusives is anything new mind you, as they usually have some great stuff on tap, but these are particularly cool.
You'll also be able to nab the four most hotly sought-after ones early. While the figures will be available at the Mezco booth on the show floor (booth #1756), ordering online is the safest way to make sure you'll actually get one and not find a little 'sold out' sign waiting for you instead.
Each figure will be posting on a different day, and will become available at 10am eastern time on that day. These will be in very limited supply online though, so make sure you log onto Mezco's site early if you want the goods.
Here's the schedule:
Monday 9/14 – Saul Goodman Variant Figure
Tuesday 9/15- Mortal Kombat X : Scorpion Black & Gold Variant
Wednesday 9/16- One:12 Collective- Judge Dredd
Black & White Variant
Thursday 9/17- Living Dead Dolls Variant Walpurgis