The first wave hasn't even hit yet, but Diamond Select Toys has announced another wave of animated-themed Marvel Minimates is on the way to Walgreens stores.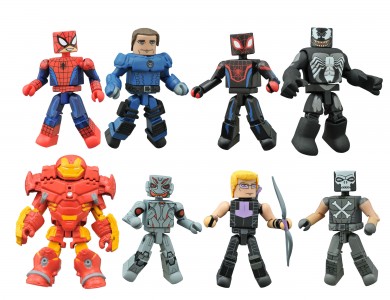 Officially series 1.5 of the new line, this second series of animated Marvel Minimates includes a nice assortment of characters. Kind of a better one than the first, which is hitting this month, in some ways. Here's how the two-packs break down:
From Ultimate Spider-Man, Spider-Man (with web line and interchangeable half-raised mask head) comes packed with Agent Coulson, with fully removable SHIELD armor to reveal his blue suit underneath.
From Avengers Assemble, a massive Hulkbuster Iron Man, with removable armor pieces and a flip-up helmet, comes with the evil android Ultron.
From Ultimate Spider-Man, the alternate-reality Spider-Man, Miles Morales (with web line and interchangeable unmasked head) comes with the Harry Osborne version of Venom, with removable parts and an interchangeable head to create the Venom clones from "Venom Bomb."
From Avengers Assemble, Hawkeye (with quiver, bow and arrows) comes with hired thug Crossbones.
That's a solid cross-section of characters from Marvel's slate of animated programs right there. As usual, each Minimate sports 14 points of articulation, which is a ton for a figure of this scale, and each set includes a appropriate accessories. Each figure is accompanied by a stand too, so they'll stand up nicely on your shelves.
Look for 'em in December, and only at Walgreens stores.