Some gems hit comic shops today, including all the big boys and girls of the superhero set, and the can't miss continuation of the brilliant Hellboy in Hell.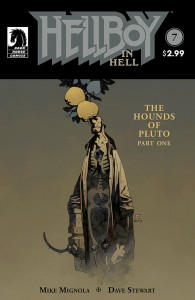 Probably my pick of the week, Hellboy in Hell #7 was a book that I had the god fortune of reviewing a few weeks ago, and it's pretty fantastic. As someone who wasn't reading the series for some mysterious reason, I was instantly enthralled by the imaginative setting (spoiler- it's hell) and frankly fantastic storyline that Hellboy creator Mike Mignola has cooked up.
The only problem with the issue? You're going to wish Issue #8 was out when you finish it.
Hellboy in Hell might be one awesome ride, but it's hardly the only winner this week at the racks. DC's reinvention of Superman continues with issue #43 (while it lasts), and Marvel's massive Secret Wars series rolls on ever forward with even more crossovers. I kind of can't believe that series is still going on, but then again, I find myself saying that with a lot of crossover 'event' books.
Scroll down for the full list of my selections for the week, and as always you can click right here to head over to Previews magalog's website and forge one for yourself.
Dark Horse Comics 
Conan the Avenger #17 – The killer becomes the hunted with Conan on his tail.
Fight Club 2 #4 – Tyler is in full command while Sebastien sleeps, and is building an army.
Hellboy in Hell #7 – see above
Halo: Escalation #21 – Midway point for the Absolute Record arc.
DC Comics
Aquaman #43 – Arthur, meet Poseidon.
Flash #43 – Not only does The Flash have to fight the threat of new baddie Folding Man, but his dad's on the loose too.
Gotham by Midnight #8 – Three words: Evil. News. Anchors.
He-Man: The Eternity War #9 – Hordak is the Master of the Universe?!
Justice League of America #3 – The Church of Rao is taking over.
Sinestro #14 – With the GL Corps vanished, the Yellow Lanterns are resurgent.
Superman #43 – The pre-Truth arc continues.
Marvel Comics
Old Man Logan #4 – Logan is set to be around after Battleworld and Secret Wars wraps up, if he makes it.
Star Wars: Lando #3 – In a world of hurt, Lando has stolen a very expensive little prize.
Valiant Comics
Dead Drop #4 – One of the most surprising and best team-up books of the year concludes.
Ninjak #6 – Ninjak tackles the Shadow Seven in a race across the globe.