If you were worried the the vanilla edition of LEGO Dimensions wouldn't offer too much to do fresh from the box, well… don't.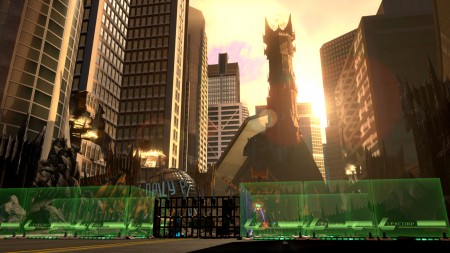 14 levels in total accompany the latest LEGO video game, and the first that enters the toys-to-life genre. So yes, you can certainly add tons more stages and characters via compatible LEGO mini-sets, but there should be plenty to do with just the basic version of the game.
Along with this fresh load of screenshots (in the gallery below), Warner Bros has announced today that gamers will find the campaign filled with familiar places to visit with the trio of characters that are included. Batman, Gandalf the Grey, and Wyldstyle (from The LEGO Movie) will actually begin their adventure on the Yellow Brick Road from The Wizard of Oz, then travel through such locales as "the city of Ninjago, plus Metropolis, Middle Earth, and Hill Valley"- all of which is but a sampling of where you'll be headed.
One of the biggest event games of this Holiday season, LEGO Dimensions hits the Xbox One, PS4, Wii U, Xbox 360, and PS3 on September 27th in the US, and on the 29th in Europe.