The trip through time continues as we meet more 'Unity' teams from the past, and War Monger goes after another member of the current squad.
Spoiler Alert: Some light spoilers follow for Unity #20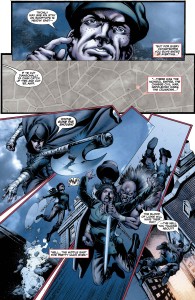 I'll say this for the War Monger arc of Unity, it's introducing a heck of a lot of history into the Valiant U. I kind of get the feeling that Valiant does this as often as they can, since their universe isn't all that old, but the whole of the War Monger arc has told of Unity teams and heroes from the past, building a history that didn't exist perviously. Actually the storyline seems more focused on that than anything else.
As with last issue, the book is dominated by War Monger telling of superhero-type characters that she's fought in the past, and just a little bit of action in the present day. This issue, her target in that present day is Livewire, the electrically powered member of Unity, and her sidekick the giant robot GIN-GR.
I'm not the biggest fan of this narrative or structure to be perfectly honest. I like the modern Valiant characters and usual members of Unity just fine, but to have the majority of these issues take place in the past basically results in Unity not being about Unity for a few issues. I understand that some people might not mind that, but I'm not one of them.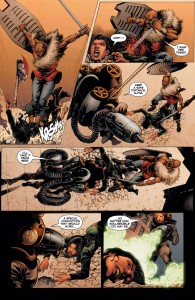 Also, the character herself is kind of grating. While the opening issue (Unity #19) had some really cool elements, I was more aggravated by the villain than anything else this time around. While it's definitely not necessary to like or root for the bad guy (or gal) in comics, I don't really care for baddies that get on my nerves. I also didn't like the fact that the story is basically jobbing Unity (so far anyway) to War Monger to put her over as grade-A threat, even though it doesn't really feel like she should be one.
Ninjak getting beaten with basically one shot at the end of issue 19 was one thing, that was actually impactful, but the way she takes out a few characters in this issue? It kind of stretches the limits of disbelief. Maybe it's just my fanboy-ism for these characters acting up, but I'm kind of put off by it.
I will add this though, Matt Kindt is one of my favorite writers, and I'm just going to assume that there's some kind of big payoff coming up some time soon. We have yet to see War Monger go up against X-O Manowar after all, arguably the biggest hero in Valiant's books, or the Eternal Warrior (who actually popped up here and has history with her), so we'll see.
One thing I can't find fault with though is the art. I still love the contrasting styles of José Luis and Jefte Palo, who handle the flashbacks and modern action with completely differently-toned work. Good stuff all around that.
Final Thoughts
Not a home run for me, which is rare for one of Valiant's offerings, but I still thought Unity #20 was worth the read. Though I don't really care for the villain, I do like the historical segments and the clever expansion of the Valiant Universe that's happening within the arc.