Unity stands against an immortal… well, kind of an immortal jerk. Welcome to the Valiant Universe War-Monger.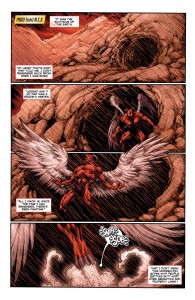 Valiant's newest villain is actually one of its oldest. While that might not makes sense in the strictest terms, it's accurate nonetheless when you're talking about the War-Monger. Her first appearance in a book, but around for thousands of years, this ever-living baddie was birthed from some kind of demonic horror and has more or less plagued humanity since her first breath. And now it's Unity's turn.
The issue looks back through history, telling the story of the War Monger, who doesn't look to have a human name. Following her from prehistory as she tells her story to an unseen presence, we find out that she has fought a sort of middle-ages Unity team, and was soundly defeated by them when she took them for a joke.
Seemingly unkillable though, she was locked away for ages. Emerged into the modern era, she sees the team that has made a name for themselves in the world. And plainly, she wants to take them down as fast as possible so they don't get the chance to get the drop on her. And her first target is the only really 'human' member of the team- Ninjak. And I will in no way give away what happens here, but it's pretty darn shocking to be perfectly honest.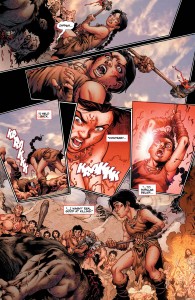 As a result of the flashback type story that this is too, we don't actually get to see much of Unity here. That's a bit of a bummer as the quartet is one of the coolest parts of the Valiant U and, well, it kind of is their book after all. It's a necessary evil though, as the backstory for the War Monger is a pretty complex one and you certainly wouldn't be able to tell it any other way that would be satisfactory.
Writer Matt Kindt once again does a great job of telling a tightly-woven narrative in way less space than should be possible. Somehow it doesn't feel rushed in the least either, which is a miracle given the amount of time and ground that's covered. As usual too, Kindt has written a pretty awesome character in War-Monger. She's fairly unique, but definitely reminiscent of a few characters like Vandal Savage in DC Comics, who immediately jumped to mind. I'll stick to that 'unique' comment though, because even though she's similar to Savage, she's definitely pretty different too… including her motivations.
Picking up the art chores are a pair of illustrators with José Luis and Jefte Palo. Luis' work tells the story in the past, while Palo's is set in the present. The two artists styles are radically different too. Palo draws in a more stylized and clean form, while Luis is all about full-blown, comic book, superhero awesome. The contrast is a little jarring, but it separates the two (plus) time periods really well, and marks the feel of all of the above in a definite way that I really appreciated as I read.
Final Thoughts
Unity rarely disappoints as a book, and this issue didn't either. I really would have liked to have seen Unity in action against War-Monger a little more, but that's what the rest of that arc is for I suppose.
With great art and a well-written story that intros a brand new villain though, you really can't skip out on this issue if you've been reading Unity all along. And even though the first installment in the new arc isn't a knockout like I'm used to seeing from Valiant, I'd put money on it that the story that Unity #19 is setting up will be one not to miss.