Trek has found a welcoming home at IDW Publishing, and the 50th issue of the ongoing series, as well as the new spinoff proves it.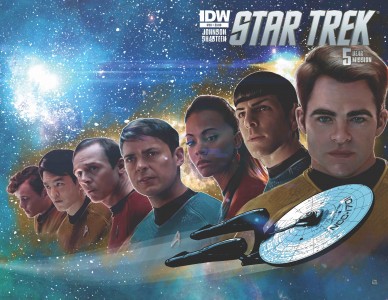 Running longer at this point than almost any other Star Trek comic book series from any other publisher, IDW's Star Trek ongoing book is coming up on 50 issues. The book is set in the JJ Abrams-verse timeline and features all the reimagined versions of the now classic characters from the original TV series. It's also not afraid to go back to those roots to introduce all-new storylines showcasing familiar elements for longtime fans.
Case in point, the rapidly approaching 50th issue. Mike Johnson continues his work with the franchise in a tale that rebirths the 'Mirror Universe' arc from that original show. The story will run for three issues, so it'll be a pretty major happening in the book, and a big time new element introduced for the movie Trek universe. That's not all that you'll find in this one though.
IDW has bonus content in store, that will look back on the run up to 50 and take a peek at what's to come. All of the above will wrapped in the art that you see at the top of this page, which comes straight from the mind of artist Tony Shasteen.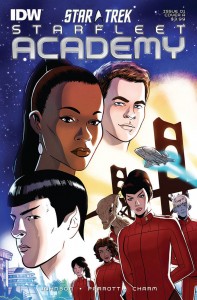 But wait, there's more! 2015 will also bring a whole new series to light with Starfleet Academy. Also from Johnson as well as Ryan Parrot and Derek Charm, Starfleet Academy is set just before the events in the original JJ Abrams-led movie rebirth that debuted in 2009. The book explores the famed Academy on Earth, that preps Starfleet officers for the Final Frontier.
"IDW is proud to have been partnered with Star Trek for nearly a fifth of its lifespan so far," said IDW Editor-In-Chief Chris Ryall. "As these new comic book projects, and many others coming soon, will show, we've got plenty of exciting new ways to bring Star Trek stories to the fans."

"The fan enthusiasm surrounding Starfleet Academy, much like Harry Potter's Hogwarts, or X-Men's Xavier's School for Gifted Youngsters, shows that the educational lives of our most beloved heroes makes for fantastic stories," said IDW editor Sarah Gaydos. "I am so excited to flesh out a new chapter in the lives of the Enterprise crew, while introducing you to a great new team of recruits – – ready to boldly go!"